Dr Ros Williams
BA, MA, PhD
Department of Sociological Studies
Lecturer in Digital Media and Society
Wellcome Trust Research Fellow.
Research Theme Co-Leader for Science Technology and Medicine in Society.
(She/her/they/them)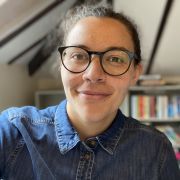 Profile

Ros joined the Department of Sociological Studies in 2016 as a Research Associate on a digital health self-monitoring project (Tracking Ourselves?) before becoming a Lecturer in Digital Media and Society. In 2019, Ros began a three-year research fellowship exploring racialised bone marrow stem cell donor recruitment (Mix & Match). Ros' work spans across Science and Technology Studies (STS), critical media studies, sociologies of race and ethnicity, and of health and illness. 

Ros has been Associate Editor of the STS journal New Genetics and Society since 2020, and since 2022 has sat on on the Early Career Awards Interview Panel for Wellcome Trust's Social Sciences and Humanities Discovery Award scheme

Ros previously worked at the University of Warwick as a Teaching Fellow, teaching quantitative and qualitative research methods, material on science and society, and social theory. Her PhD was awarded by the Science and Technology Studies Unit (SATSU) at the University of York in 2016. Ros was supervised by Professor Nik Brown and wrote a thesis exploring the 'archival practices' of contemporary public-use stem cell tissue banking and the transitory nature of biomedical standards. 
Qualifications

BA (Hons) (Warwick)
MA (Warwick)
PhD (York)
Research interests

My research engages with Science and Technology Studies (STS), digital sociology, and the sociologies of race and ethnicity – particularly the intersection of racialisation and biomedical science.

I am currently on a period of extended research leave to undertake Mix and Match, a three-year Wellcome Trust Social Science and Humanities Research Fellowship. Begun in September 2019, this project explores intersections between health, race and social media, focusing on Black, minority ethnicity and mixed raced stem cell donor recruitment in the UK.

Using a mixed methods approach that incorporates ethnography and social media analysis, I am looking at the use of donation drives and social media campaigns which focus on encouraging minoritised people to register as potential stem cell donors. I am working with several third sector organisations in this project.

My doctoral research was completed at the University of York. The thesis, defended in 2015, focused on umbilical cord blood stem cell banking. Here, I developed an interest in the use of race classifications, legacies of health care inequity, and genetic understandings of racial differences in blood and tissue.

I published a number of papers based on this research before coming to Sheffield to work on Dr Kate Weiner's Leverhulme project on self-monitoring technologies and everyday practices of self-care, through which I developed an interest in the use of digital technologies for health practices and digital health platforms more broadly.
Publications

Journal articles

Chapters

Book reviews
Research group

Ros welcomes PhD supervision enquiries and is particularly interested to hear from individuals interested in exploring aspects of race and ethnicity, mixed raced identities, inequitable health access, tissue (blood, organ and cell) donation, and various aspects of digital health.

Ros is co-leader of the Science, Technology and Medicine in Society (STeMiS) research theme in the Department.
She is also an executive member of the interdisciplinary research institute iHuman. 
Grants

| Duration | Project title | Sponsor |
| --- | --- | --- |
| 2019-23 | Social Sciences and Humanities Research Fellowship - Mix and match: Constituting racialised communities in UK stem cell donation. | The Wellcome Trust |
| 2021-22 | Secondment Fellowship - Kept on Ice: Exploring international blood stem cell donor perspectives on the practice of unanticipated cryopreservation. Hosted by Anthony Nolan stem cell registry. | The Wellcome Trust |
| 2021-2022 |  White Rose Collaboration Fund : a framework for understanding social dynamics in and beyond a pandemic. https://vitalcirculations.org/ | White Rose University Consortium |
| 2021-2024 | Contextualising and transforming support for minoritised blood cancer patients in the UK. PhD Collaborative award with Blood Cancer UK. | ESRC White Rose Doctoral Training Partnership |
| 2021-2024 | "Save Lives, Stay Home", or "Save a Life, Give Blood?": An exploration of NHS Blood and Transplant's public health messaging in the pandemic media ecology. PhD Collaborative award with NHS Blood and Transplant. | AHRC White Rose College of Arts and Humanities |
| 2022-2023 | Race to recruit: Understanding racialisation in biomedical science by exploring the enrolment of racialised minorities to UK clinical research and health interventions. (with Andy Smart, Kate Weiner and Francesca Sobande) |  Foundation for the Sociology of Health and Illness |
Teaching activities

I have previously convened undergraduate modules for the department's Digital Media and Society course, including 'Advancing with Digital Methods', 'Sociology of the Media', and 'Work Placement'.

I am not currently teaching in the Department, but occasionally deliver guest lecture content and provide some MA dissertation supervision. If you're a student with specific questions about content I've delivered, please do send me an email.
Professional activities

Since 2020, Ros has been associate editor of STS journal New Genetics and Society.
From 2018-2021, Ros was co-convenor of the British Sociological Association's STS Study Group., which oversees abstract selection and delivery of the STS/digital streams at the BSA's annual conference. 
From 2016-2019, Ros sat on the executive committee of AsSIST-UK which supports transdisciplinary collaboration across the social sciences, humanities and sciences in the field of science, technology and innovation studies.