Continuing Professional Development (CPD)
As a member of the South Yorkshire Teaching Partnership, the University of Sheffield offers high quality training for social work students and qualified social workers in order to help them to develop the skills they need to work effectively in front line statutory services.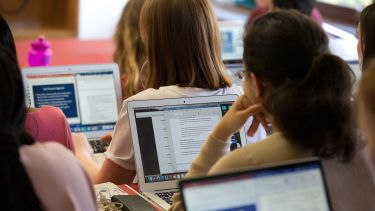 Off
These courses and modules are designed to develop your skills and knowledge, and to help support and enable you to deliver first class service quality to children and their families.
We are pleased to be able to add a modular route to our postgraduate continuing professional development (CPD) activity in Advanced Professional Practice, as an alternative option to our MA in Advanced Professional Practice.
This CPD route is available to qualified practitioners and their employers in order to provide greater flexibility and choice for study at post-qualifying level. The modules are all also available as part of the suite of awards we currently offer, and you will be able to use the credits you achieve by completing them successfully to build future awards. You will thus have the opportunity to complete an accredited award over a longer period of time.
As with our other CPD full awards, the modules will be taught by academic staff with strong and substantial professional experience, and whose teaching content reflects the best and latest research. Our intention is to combine creativity and flexibility with rigorous academic approaches to learning, in order to develop practitioner students' skills and knowledge and to help support and enable them to deliver first class service quality to children and their families.
What studying under this modular arrangement gives:
The chance to enhance your specialist expertise and knowledge;
The opportunity to undertake post-qualifying studies at your own pace and with students from a range of practice backgrounds within the region;
A range of transferable skills and knowledge that will be of benefit not only to you in career terms, but also to the organisation for whom you work;
Advanced teaching, supported by experts in the field, that offers the specialised understanding of the particular issues, methods and skills necessary both to understand and undertake work with children and their families;
The opportunity to think about and critically reflect on your current practice and ways to improve your contribution, whether as a practitioner or a front line manager, to the service you offer.
Available modules
Assessed and Supported Year in Employment (15 credits)
Developing Professional Practice and Safeguarding (30 credits)
The Social Worker in the Court Room (30 credits)
Parenting Capacity (15 credits)
Kinship and Statutory Care for Children (15 credits)
Interventions to Promote Change (15 credits)
Research in Professional Practice (15 credits)
Child Development and Communication with Children (15 credits)
Applied Adult Social Care Law 1 (Care Act) (15 credits)
Applied Adult Social Care Law 2 (Mental Health Legislation) (15 credits)
Strengths-based approaches to Adult Social Work (15 credits)
Positive Risk-taking and Advanced Adult Safeguarding (15 credits)
Introduction to Leadership and Mentoring (30 credits)
Postgraduate Certificate in Leadership and Management (60 credits)
Practice Learning Educator Stage 1 (15 credits)
Practice Learning Educator Stage 2 (15 credits)
Practice Development Educator (30 credits)
---
How do I apply for study for a module?
We will advertise the number of places offered and will invite you to register your interest. Please note, you must not book a place before approval from your line manager is given. Should there be more interest than places then there will be a selection process.
If you have been offered a place on a module, then the process for taking up your place is as follows:
Please note - all 3 steps must be completed before you can start on the module.
You will receive an electronic copy of the SYTP Learning Agreement form (see section 9). Please complete it asap and return it to: southyorkshireteachingpartnership@sheffield.gov.uk.
You will receive an email with links to an online application form and instructions for completion. You should only apply for the module you have been nominated for. You will need your HCPC registration number to hand when completing the application form. Once you have completed the on-line application you will receive a confirmation e-mail that your application has been submitted.
University of Sheffield admissions will then send you an e-mail giving information about your offer and advising you that you will receive a further email providing instructions on how to register online to join the University and set up your student account. The registration form takes you through several steps all of which must be completed.
Once you have registered you will be issued with your MUSE card, have access to University facilities and be set up for the award of your credits.
Remember - both the application form and registration tasks must be completed, and the learning agreement form completed and returned, before you can take up your place on the module.
---
CPD module application and registration process FAQ
Q. What should I do once I have been nominated for a Continuous Professional Development [CPD] module within the Advanced Practitioner Framework [APF] by my line manager?
A. You will receive an e-mail from the University of Sheffield informing you that you have been successful in gaining a place and providing you with information on how to apply and register with the University.
Q. What happens after I submit my application?
A. Firstly, you will receive an automated acknowledgement providing you with your Application Number. After a few days you will receive an e-mail from pre-registrations asking you to activate your University account and create a password.
Q. How do I complete my registration?
A. You should log back in to your University account and complete all 'Update Personal Details' tabs including reading the Data Protection and University Regulations statement.
Q. Why is it important that I complete my registration ahead of my course starting?
A. You must be fully registered to be covered for insurance when attending the University. Your registration will also allow you access to course material on MOLE (My Online Learning Environment), on-line library services and your U-card.
Q. Who should I contact if I have forgotten my password?
A. Go to www.sheffield.ac.uk/account-management/student/recover
Q. What if I have previously registered with the University for a different course?
A. You should submit an application in the usual way however you will be classed as a continuer when it comes to registering. The central registration team will issue you with the correct link to follow and add the new module to your record.
Q. Who can I contact if I am having difficulties accessing the system and completing my registration?
A. The Student Fees Team will advise you. You can contact them through the online enquiry form.
---
The content of our courses is reviewed annually to make sure it's up-to-date and relevant. Individual modules are occasionally updated or withdrawn. This is in response to discoveries through our world-leading research; funding changes; professional accreditation requirements; student or employer feedback; outcomes of reviews; and variations in staff or student numbers.In the event of any change we'll consult and inform students in good time and take reasonable steps to minimise disruption.
A global reputation
Sheffield is a research university with a global reputation for excellence. We're a member of the Russell Group: one of the 24 leading UK universities for research and teaching.