Digital media and society
Digital media are integral to society and to everyday life, as platforms shaping public processes and values, and as intimate devices for living, connecting and networking.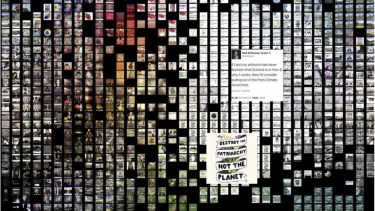 The Digital Media and Society research area in the Department for Sociological Studies is concerned with a broad range of digital media/society issues, including: 
Self-representation and online identities in relation to gender, age, race & ethnicity, globalisation;
Digital infrastructures;
Digital media and activism;
Digital media and marginalised groups (eg relating to gender, race, sexuality);
Mobile digital media and digital marketing;
Digital media and health, mental health and well-being;
Visual digital cultures;
Digital research methods and ethics;
Digital media theory (eg relating to politics, expertise and time).
Our research has been funded by ESRC (e.g. Making Climate Social), AHRC (e.g. Drones in Visual Culture), EPSRC (e.g. Trust In Data), the European Commission (e.g. Queer Migrant Identities Online), Australian Research Council (e.g. Tracking Infrastructure for Social Media Analysis), the Norwegian Research Council (e.g. Data Visualization In Society), Leverhulme (e.g. Tracking Ourselves? Caring for ourselves through everyday monitoring and Previvorship in the platform society. Cancer genetic risk in the digital age),  Wellcome (e.g. Mix and Match: constituting racialised communities in UK stem cell donation and projects on tweeting rare diseases), the Nuffield Foundation (e.g. Living With Data), and the British Academy (e.g.  Vaccine voices and on secret-telling apps). 
Our research is regularly featured in national and international media, for example BBC TV and radio, the Guardian and Independent newspapers, and Wired magazine.
Digital Media and Society researchers play leadership roles in the main international associations in our field, including: 
The Association of Internet Researchers (AoIR);
The International Communications Association (ICA);
The European Communications Research and Education Association (ECREA);
The UK's Media, Communication and Cultural Studies Association (MECCSA);
The British Sociological Association (BSA).  
Digital Media and Society PhD students are currently researching topics such as:
The role of data visualisation in society;
Digital health, from self-tracking and digital fitness companies to digital health activism;
Self-representation, connectivity and intimacy – on WeChat, dating apps, gaming communities;
Social media and environmentalism, including climate change communication and social norm messaging;
Data, AI, algorithms and inequality;
Digital and data-driven research methods;
Gender and digital media;
Covid-19 in the media. 
Health, science and expertise on social media
Digital Media and Society PhD students and researchers are actively involved in the Sociological Studies' research themes (especially Everyday Life & Critical Diversities and STeMiS) and in Faculty of Social Sciences' interdisciplinary research groups (Digital Society Network, Migration Research Network, iHuman).
People in the digital media and society research area include:
Flagship institutes
The University's four flagship institutes bring together our key strengths to tackle global issues, turning interdisciplinary and translational research into real-world solutions.