Hear from some of our past students about what's it like doing a placement year, how they found the roles, and how it benefitted them!
Off
---
Lana Harold - Placement as a Volunteer Mentor with City Year
I spent my placement year as a Volunteer Mentor for an educational charity, City Year. The charity aims to tackle educational inequality in both primary and secondary schools in Greater Manchester, the West Midlands and London.
As a Volunteer Mentor I worked full-time as part of a team of six, spending Monday to Thursday in a primary school in Wythenshawe, working with a 'focus group' of eight children who had social and emotional needs. My role varied from assisting children with their academic work, to spending break times and lunch times on the playground, to running my very own extra-curricular club. Fridays were spent in City Year's office in central Manchester, developing leadership skills and benefiting from fantastic networking events hosted by City Year, offering the chance to listen to and seek advice from a variety of successful professionals, ranging from Members of Parliament, to business leaders, to Charity CEOs. 
My placement with City Year was fantastic. It has given me the chance to think carefully about post-university career options and has also been a really fun way to experience a new city with the comfort of knowing Sheffield will be there waiting for when I return for third year.
I would highly recommend placement years. They provide a unique opportunity to gain a real insight into an industry/area of work which may otherwise go undiscovered. For anyone considering a placement year, I would recommend confirming beforehand what the work will consist of exactly; make sure you're doing something that sounds interesting and worthwhile! 
---
Ella Rylatt-West - Placement as a Research Intern with the College of Policing
I am working for the College of Policing as a Research Intern, part of the Knowledge, Research and Practice team. The placement scheme I am part of is the Government Social Research (GSR) sandwich year under the Civil Service. I was emailed the link of how to apply to the GSR sandwich year whilst I was searching for a 2020 summer placement - at the time I couldn't find any placements in the area I was interested in. This placement looked really interesting and along the lines of where I wanted to take my career after university and gain experience, so I applied!
It is going well so far, and I am really enjoying my role and working with the team. I've been involved in a couple of projects in my time here so far, specifically working with survey analysis. And with this I have already learnt and developed skills in social research which will be valuable to the final year of my degree!
My advice would be to get in touch with the University Careers Service to find your potential areas of interest. They are really helpful and can provide you with companies or organisations which run both summer and year long internships. Also, keep a look out for emails from tutors and leaders with opportunities you might be interested in and don't forget to look at the application deadlines!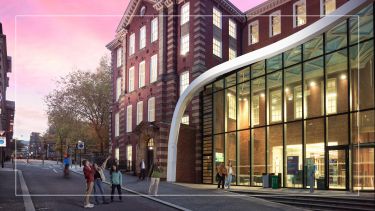 Visit us
Discover what sets Sheffield apart at our undergraduate open days on the Saturday 21 October or Saturday 18 November.