Sociology Society (SocSoc)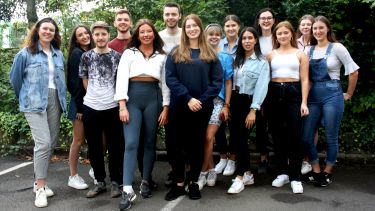 Welcome from the SocSoc Presidents
Welcome to SocSoc, The University of Sheffield's Sociology Society! Congratulations on being accepted into the Department of Sociological Studies at the University of Sheffield, the best years of your life are about to begin!
SocSoc is run by a group of students currently studying various social science degrees at the University of Sheffield, who aim to offer you a friendly, supportive environment and warm welcome to university life. We pride ourselves on being an inclusive and informative society for all students, providing members with a range of opportunities to help them get involved beyond their normal contact hours. 
We and the committee are so excited to meet you all, even if it has to be virtual for the time being! We will do everything we can to help you settle in and make the most of your time here in the Department and at the University. 
Isobel Nield and Lauren Evans 
SocSoc Presidents 2020/21
What does SocSoc offer?
---
Academic support
To support you throughout your studies our Academic Officer organises extra-curricular support and help for first and second year students. Throughout the year the society will provide members with the chance to be part of essay writing and revision tip sessions, career events and a regular sociological film club.
Socials and events
SocSoc is a very social society and holds a variety activities & events throughout the year. We enjoy organising activities that cater for everybody such as themed nights out, bar crawls, pub quizzes, day trips, cocktail making sessions, movie nights & more, with many at discounted rates! We also hold annual events that are not to be missed such as the End of Year Ball and the society trip away... keep up-to-date with our social media to find out the surprise destination.
Charity and volunteering
Do you want to get involved in something fulfilling whilst studying? Interested in charity work or volunteering to help boost your CV? Our volunteering duo is committed to organising fundraising events, including charity walks and bake sales, for worthwhile causes. SocSoc is proud to continue working with Roundabout charity this year, which provides shelter, support and life skills to young people in Sheffield.
Sports & activities
SocSoc has been running very successful football and netball teams for years! Joining our football and/or netball teams is a great way to meet new friends and keep fit. Teams meet once a week for games and training, which you can do at your own pace! We also get involved in inter-departmental competitions throughout the year—perfect for the more competitive sociologist.
---
Contacts and membership
Go to our Facebook page for further information, and you can also follow us on Twitter and Instagram! Keep up-to-date via our Snapchat account: socsocsnaps
If you have any questions or you would like to get involved with the committee you can also email us at: sociologysoc@sheffield.ac.uk
All freshers will receive an intro pack within their first week, from the committee, holding additional information about SocSoc. There is also a notice board in the Elmfield building, near the reception desk, where you can find additional information.
Membership costs just £25 and is valid for your full three years at uni. This can be bought at the activities fair or on the SU's website.
Being a SocSoc member not only gets you involved in the society but enables you to take part in our activities at a cheaper price, gives you discounts at various popular bars and ensures discounts on our lovely SocSoc merchandise!
A world top-100 university
We're a world top-100 university renowned for the excellence, impact and distinctiveness of our research-led learning and teaching.