I have learned that university is not about working 24/7. It's about meeting new people, trying new things and developing as a person

Robin Todd
Graduate
BA Sociology
2021
Robin felt nervous and reserved at the beginning of his university journey. Throughout his undergraduate studies however, Robin grew in confidence and went on to become a trusted Student Ambassador for the Department of Sociological Studies, who was passionate about ensuring that Open Day talks became as inclusive as possible for all prospective students who may be nervous about taking the next step to university life.
Why did you choose to study at The University of Sheffield?
I grew up in Sheffield, and have been really lucky to have done so. Sheffield is such a unique city with amazing green spaces that, as an outdoorsy person, never bore me and have opened me up to lots of new activities and opportunities from climbing to kayaking - how could I give that up?
I also just really loved the Department of Sociological Studies at Sheffield. The staff were really friendly and welcoming, and the modules they had to offer really piqued my interest - especially the ones on gender, sexuality and masculinity. I also think anxieties around leaving home had some influence there too.... But, staying in Sheffield was a great decision, regardless.
What was the best or most useful thing about the course you studied in the Department of Sociological Studies?
My hope is to continue with my studies in the future, going on to do a Masters Degree in Digital Media and Society following my undergraduate studies, and potentially even a PhD later down the line. My BA Sociology degree has therefore been useful in setting me up on this endeavour, equipping me with experience and skills in conducting and presenting research. It has also been an amazing opportunity to meet academics in the Department that share my research interests, who I have built strong connections with and will be able to continue to work closely with as I progress through my time at university. 
Do you like the city centre?
Sheffield's city centre is quite small. People call Sheffield "the city with a village feel" due to its tight-knit sense of community. It's not big and intimidating like Leeds or Manchester or Birmingham with loads of skyscrapers, it's instead quite mellow and really easy to get around. There are some lovely hidden gems like Division Street, with lots of Vintage Shops and Independent Bars, or Kelham Island with its urban aesthetic, hipster tattoo shops and street-food markets. And then, of course, there's a whole range of parks and outdoor spaces scattered across the city and very near to the University, which are very nice to wander through or sit in for a picnic on a warm day. I've found that starting your day by wandering through one of the local parks on your way to a lecture or the library in the morning is so energising and puts you in a great headspace. 
Why did you become a Student Ambassador?
Initially, I was approached at the end of my first year by Janine Wilson, who recruits Student Ambassadors for the Department of Sociological Studies. Janine was lingering in the audience of a first year module of mine, in which students had to give a public presentation as part of a research assessment. Based on my public speaking, Janine wanted to see if I was interested in being on the team of Student Ambassadors. I am quite an introverted and reserved person at times, and struggled to get involved with University activities in my first year, so I felt as though being an Ambassador would be a great opportunity to get involved and meet new people. I also thought it would be a perfect chance to gain some experience that could be applicable to a professional environment one day. 
After being approached by Janine, she asked to meet with me for an informal chat, just to see what I was like (she must have thought I was alright in the end!), gauge what experience I had, and to check if I had any questions about the job responsibilities. Janine explained to me what the role involved, showed me around the Department and then told me to get back to her via email after thinking it over. This meant that I was under no obligation to take the role but had the chance to consider my decision first. There wasn't much to consider as I immediately felt as though it would be an amazing experience! 
 
What do you do as a Student Ambassador?
My main responsibilities as a student ambassador are to chat to prospective students on Open Days and give them a student perspective on university life. Prior to COVID, this meant showing people around the Department, having informal chats over tea and biscuits with young people and their parents, carers and other visitors on Open Days, giving them space to ask any questions or address any worries and concerns, and to speak to them about my experiences, both academically and around university life in general. Following COVID, we had to adapt this to an online environment, delivering informal presentations to prospective audiences and answering any questions people had. 
 
As a transgender student, I can recall the extra nerves and anticipation I had when I did the rounds of Open Days before I came to Sheffield, and also the worry over the support that would be available and whether or not I would be accepted and integrated within the University community. This shouldn't have to be a something any student is concerned about or a worry that is left unsettled and so, acknowledging this, I took it upon myself to ensure that our Open Day talks were as inclusive as possible by creating space for discussion about the representative committees we have available at the University, the liberation campaigns we run, and the support available to marginalised students. So, there's constant scope to bring new things to the Student Ambassador role - it's always evolving and changing!
 
I, personally, have only had a positive experience being an ambassador. I have built fantastic relationships with departmental staff meaning there are people I know I can rely on and have a strong rapport with for personal, academic and career-related questions. I have also met and built great connections with other people on my course - something I struggled to do in my first year - and I have gained a lot of experience and confidence with public speaking. 

What piece of advice would you offer new students to the Department of Sociological Studies at Sheffield?
I think, if I were to go back to chat to first year me, I'd tell myself to just chill out a little bit more, if I'm honest. That sounds a bit strange perhaps but, coming to university can be so daunting and intimidating and cause real stress so, sometimes, that really got the better of me, and I sacrificed both my wellbeing and my social life as a result.
I have learned that university is not about just working 24/7. It's about meeting new people, trying new things, and growing and developing as a person, and so you need to be kind to yourself, balance your time well, and relax a little bit. With that in mind, make sure you make use of resources! There are a mountain of people and facilities at the University and in the Department of Sociological Studies that are there to help and support you and so, if you're struggling, reach out. The University has been really attentive and understanding when I've approached them with anything from an academic to a personal issue - but you have to let them know! Don't try and always be your own hero, it's ok to ask for help. 
---
Robin also presented his research at the Sociologies of Reality TV Symposium Event and has very kindly provided a testimonial on how he found the event. You can read his testimonial here.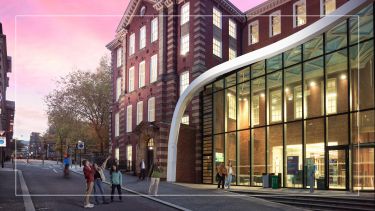 Visit us
Discover what sets Sheffield apart at our undergraduate open days on the Saturday 21 October or Saturday 18 November.