Being an avid social media user, I just knew this was the perfect course for me

Shu Ki (Suki) Cheung
Graduate
BA Digital Media and Society
2021
Originally from the busy city of Hong Kong, Suki tells us why the greenery of Sheffield was a breath of fresh air for her.
Why did you choose to study the BA Digital Media and Society at The University of Sheffield?
I chose to study Digital Media and Society because it is a very unique and new course that I couldn't find in other universities. I loved how modern and relatable the topic of digital media is and, being an avid social media user, I just knew this would be the perfect course for me!
What did you enjoy most about the course, and why?
This course truly reflects its title. Everything I have been taught is what I have expected, which is great. Overall, this course enabled me to see digital media under a new light, revealing a deeper level of understanding about social media when I use it daily. My favourite module must be Digital Media and Social Change, since I have always been interested in activism and how the digital era has changed the method of the manifestation of activism. Luckily, the University offered a module that answers all my burning questions! Through the Digital media and Social Change module, I had the chance to participate in debates surrounding the topic of digital activism, gained a deeper understanding of the role digital media plays in social changes, learned how to develop an empirical analysis of social media such as Twitter and more. Generally, this module has honed my confidence when discussing complex digital sociological concepts and improved my analytical skills to further study digital activism, which is all useful skills that I will carry on in the future.
Did you find it easy to settle into student life in Sheffield?
Yes, everyone here has been very inclusive and I've had a great experience settling in as an international student. Not only are the students friendly, but there is also a great support network provided by the university. If you ever feel stressed, homesick, overwhelmed, the university has a lot of platforms for you to reach out to help aid and ameliorate your mental health. It is also amazing that there are a lot of other international students, which means there are myriads of pupils that are in the same boat as you. I never felt left out or intimidated by new faces.
What's your favourite thing about Sheffield as a city?
I love all the green spaces in Sheffield. Growing up in Hong Kong and being surrounded by skyscrapers my whole life has developed my strong predilection for nature and parks. The greenery in Sheffield is just an amazing juxtaposition to the surroundings I was used to in Hong Kong. Sheffield is like a breath of fresh air. It's just so good to be away from a busy city. All the parks in Sheffield are idyllic and impeccable, it is hard to pick a favourite! But I definitely recommend going to a park for a picnic or just to chill in between lectures, since there is one right next to the Students' Union! It's just a good way to relax.
Do you have any reflections to share on your study since the Coronavirus outbreak and the temporary move to online teaching?
It was definitely difficult for everyone to adjust to big changes in such a short period of time, but I can confidently say that The University of Sheffield has done an outstanding job to establish a great academic and support network virtually for all students. I didn't feel any concerns finishing my second year of university away from Sheffield, everything I needed was available online. The University also considered time zone differences for international students, which meant all of the lectures and seminars were recorded. That also meant I could watch it the next day when it was infeasible for me to attend the lectures/seminars live. Lecturers were also super attentive and provided extra office hours for students in need during times of uncertainty.
Where do you see yourself in the future?
After graduating as an undergraduate from The University of Sheffield, I wish to continue to pursue my higher education by studying a master's degree. I haven't decided on where to study yet but will definitely continue on the field of digital media and communications.
What piece of advice would you offer new students to the Department of Sociological Studies at Sheffield?
Don't be afraid to ask questions; reach out to your professors. No questions are silly, small, or irrelevant. The professors of The University of Sheffield are all more than happy to help you. When I was a fresher at the University I was diffident and timid, therefore I was always too afraid to be proactive. However, after realising how friendly and helpful the professors are, I really regret not reaching out to them earlier, not booking into the office hours when I had worries. So to avoid making the same mistake as me, be proactive from the start!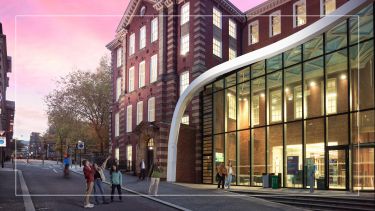 Visit us
Discover what sets Sheffield apart at our undergraduate open days on the Saturday 21 October or Saturday 18 November.