I think university is a place for you to grow as an individual and find out more about who you are
BA Digital Media & Society
As an international student, Zoe initially felt a little homesick when she came to Sheffield but by joining societies, engaging with the exciting range of modules offered as part of her course and exploring the city, Zoe formed a routine that allowed her to settle in to student life.
Why did you choose to study the BA Digital Media and Society at The University of Sheffield?
I wanted to study communications at university, but I also wanted to be able to give myself the choice to explore other related subjects. When I came across this BA Digital Media and Society course, what drew me to it was not only the blend of both sociology and digital media, but the 'three streams' that they offered as well. 
The modules included options that specialise in education, marketing and journalism. This gave me the freedom to explore outside of the course, but also hone in on a subject that I wanted to learn more about. 
What are your thoughts on the course so far? Which modules have you enjoyed the most, and why?
All of the modules are interesting in their own right, but I have particularly enjoyed modules with more practical elements, such as the data visualisation and digital methods modules. Not only have I been able to learn new skills, such as how to utilise digital methodologies to conduct social research about current and relevant issues, but it has also allowed me to challenge myself to work within the limits that digital technologies posed. 
The modules I've enjoyed the most are: Digital Methods, Advancing with Digital Methods and Digital Media and Social Change. 
Have you found it easy to settle into student life in Sheffield? 
During first year, the first one or two months were a little hard for me to settle in as I was a little homesick, and wasn't very familiar with Sheffield or the UK. But through joining societies, attending the modules and exploring Sheffield, I was able to meet new people, and form a routine that allowed me to settle in to student life.
What's your favourite thing about Sheffield as a city?
The atmosphere – it's easy-going and unhurried. You can get to where you need to go at your own pace because most things are within walking distance. 
Do you have any reflections to share on your study since the Coronavirus outbreak and the temporary move to online teaching?  
Because of the coronavirus, I chose to stay in Hong Kong and study overseas, so all my lectures and seminars are online. In spite of this, nothing has really changed for me personally, except maybe more screen time. 
What are your plans following graduation? Where do you see yourself in the future?
After graduation, I plan to apply for a masters degree in Communications at the Erasmus University in Holland. Although I'm not certain where I'll work in the future, I hope it has something to do with games! 
What piece of advice would you offer new students to the Department of Sociological Studies at Sheffield?
One piece of advice I'd offer new students is to first strike a work-life balance that suits you. I think university is a place for you to grow as an individual and find out more about who you are, so don't hesitate to join societies, do volunteering work or travel around. It's also a place for you to learn new skills that will hopefully help you in the future, so it's important to keep in mind that you do have other responsibilities to fulfil.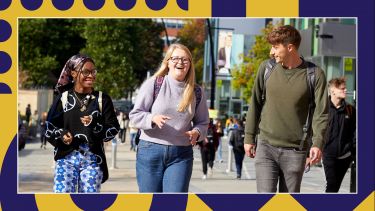 Results and Clearing 2022
You can apply for available courses starting this September from 8am on Thursday 18 August.