The future of Climate Urbanism: The second Sheffield Urbanism lecture series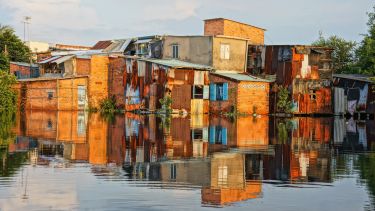 Event details
Wed 6 October, Wed 20 October, Wed 3 November
---
Description
This event has ended.
We are proud to announce our second Sheffield Urbanism Lecture Series on the Future of Climate Urbanism.
The Sheffield Urbanism Lecture series is an initiative of the Urban Institute to generate provocative and nonstandard propositions for understanding processes of urbanization and urban life. It is intended as a space to reimagine both the conceptualizations and narratives of urban studies.
The lecture series will draw on the expertise of climate change in the Urban Institute, with lectures from Professors Vanesa Castán Broto and Simon Marvin and chairing by Dr Aidan While.
Following the success of our first Sheffield Urbanism Lecture Series in 2020 (available on YouTube), the Future of Climate Urbanism comprises three lectures in Autumn 2021 which will all take place online.
Find out more about the series
Lecture One: The multiple lives of climate urbanism Wednesday 6th October 3–4.30pm 
Professor Vanesa Castán Broto will open the lecture series by exploring the emergence of climate urbanism and its current manifestations across different geographies, with particular attention to the ways in which climate urbanism is reinforcing urban inequalities and producing new ones.
Lecture Two: Technologies of climate urbanism Wednesday 20th October, 3-4.30pm 
Professor Simon Marvin will consider how climate urbanism has generated new arguments for the enhanced and accelerated technification of urban society and incorporating technology into urban environments. The talk considers the intertwining of climate turbulence and vital system security examining how this is accelerating.
Lecture Three: Queering climate urbanism Wednesday 3rd November, 3-4.30pm
Professor Vanesa Castán Broto will conclude the series by investigating alternative perspectives on climate urbanism that are looking to disrupt existing understandings about how to take action and with what purpose. The lecture will consider what kinds of orientations are deployed within climate urbanism, and the extent to which reparative alternatives are even possible.
Check out the first Sheffield Urban Lecture Series on YouTube.
Events at the University
Browse upcoming public lectures, exhibitions, family events, concerts, shows and festivals across the University.