Book launch - Producing Mayaland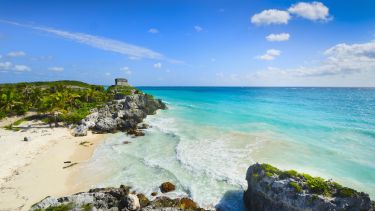 Join Claudia Fonseca Alfaro for a conversation with Lindsay Sawyer (University of Sheffield), Jonathan Silver (University of Sheffield) and Simone Vegliò (Malmö University) to discuss her new book. There will be an opportunity for an open discussion and debate followed by a drinks reception. This is a hybrid event organized by the Urban Institute, The University of Sheffield. Please register to attend in person or online.
 
About the book: 
Challenging the ways we understand urbanization in the global South, Producing Mayaland examines the boom-to-bust story of maquiladoras in Yucatán—the south of Mexico—to reveal the political, colonial, and racial dynamics at play.
About the participants:
Claudia Fonseca Alfaro is a postcolonial and feminist urban scholar who is interested in studying the way urbanization unfolds and how global capitalism actually happens on the ground in the inconspicuous places of the global South. Her research interests include global commodity chains, comparative urbanism, and the nexus between infrastructure and racial capitalism.
Lindsay Sawyer is a scholar whose research is concerned with confronting urban theory, especially related to informality, with the grounded realities of African urbanism. Her work looks to build new theories and concepts from grounded research, and exploring comparative methods as a way to do this. 
Jonathan Silver is an urban geographer who is interested in the uneven ways in which infrastructure has come to be planned, operationalized and experienced. His expertise includes a range of cities across global Norths and Souths. He has generated a postcolonial mode of theorizing paying attention to the ways in which finance, urban politics, everyday interactions and visions of futurity come to shape the infrastructural terrain.
Simone Vegliò is a scholar whose research sits at the intersection between Urban Geography and Political Geography. After working on urban transformations in Latin America from a historical perspective, his current research explores the socio-spatial and (geo)political impacts of neo-extractive and logistical infrastructure in South America's River Plate basin.
Flagship institutes
The University's four flagship institutes bring together our key strengths to tackle global issues, turning interdisciplinary and translational research into real-world solutions.