CESET team supports the Chipopoma mini hydro plant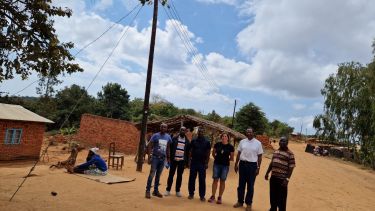 Chipopoma mini hydro plant is a community-based mini-hydro developed by John Sailence. The hydro plant is intended to supply electricity to the Manchewe community in Khondowe, Livingstonia, 128 Km from Mzuzu and 482 KM from Lilongwe. The mini-hydro plant operates by a 53kVA generator coupled with a locally made twin nozzle pelton hydraulic turbine. The water is diverted by an HDP pipe of ɸ220mm in diameter, and 250 m in length equivalent to the head of the Manchewe river waterfall.
Currently, there are 120 households connected (400+ households are in the pipeline to be connected soon) to the mini-grid on the site. The Chipopoma mini-grid is a medium voltage grid of 11KV, 3.5Km in length, and a distribution line of 415V extended to 9.5KM. There are 4 distribution transformers at a capacity of 100kvA (11/0.415 kV) to supply power for the community and one 50 kVA, step-up transformer connected to the hydro-generator to step up the voltage from 400V to 11kV.
The CESET team first visited Chipopoma mini hydro plant in April 2022 and agreed that they could help with technical improvements to protect the plant and therefore improve its sustainability. Vanesa with Addis Abba and Mzuzu colleagues returned to the site in September 2022 to investigate the possibility of technical and financial assistance to enhance the existing mini-grid for a reliable operation in the future.
Please watch our YouTube videos where John explains the ways in which the grid could by improved by working on the powerhouse, making the pipes more sustainable and increasing safety. 
The team has determined that there are several technical issues that should be resolved in order to support the community energy facility for sustainable operation among which the followings can be considered:
Installing three phase digital bulk energy meter – there currently isn't one in the network
Replacing the currently installed oversized 63A circuit breakers at each household as this is too large for a rural community load demand
Installing three phase isolator at power house and control room – there isn't one yet
Installing 120 MCCB circuit breaker for Generator protection - the current one installed is 200A and is oversized
Three phase dual digital ammeter and voltmeter in the control room – there isn't one already  
Metal Oxide Polymeric Lightning Surge Arrester (10kA) – replacing the exiting one
(one transformer failed due to lighting strike on the line)
Transformer rewinding - one transformer failed due to lightning strike
Earthing rod for each transformer – there isn't one yet
Technical training for (Chipopoma hydropower plant) technicians - capacity building.
The CESET team are working closely with John and our Malawi colleagues to begin the next stage of this project. Keep checking back to the CESET website for further updates!
Flagship institutes
The University's four flagship institutes bring together our key strengths to tackle global issues, turning interdisciplinary and translational research into real-world solutions.