Expressways to the Future? - Event Information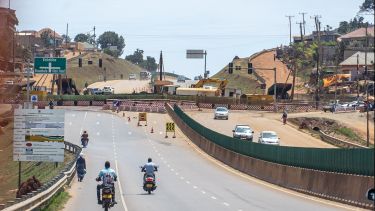 Speakers: Jethron Ayumba Akallah (Department of History and Archaeology, Maseno University), Patrick Muthengi Maluki (Department of Diplomacy and International Studies, University of Nairobi), Oscar Otele (Department of Political Science and Public Administration, University of Nairobi)
Chaired by: Catherine Gateri (Senior Research Fellow, BIEA), Prince Guma (University of Sheffield)
In recent decades, African countries have embarked on a series of ambitious projects, with the goal to rebuild their infrastructure, achieve socio-economic development, and deliver modern and sustainable urban futures. Emerging new highways, expressways and bypass roads in East Africa, including the Kampala-Entebbe Expressway in Uganda and the Nairobi Expressway in Kenya, are some cases in point. These projects underpin comprehensive development plans. They signal different political imaginings and global ambitions based on the promise of fixing the region's 'infrastructure gap'. Not only are they modernising, they embrace standard ideals and top-down approaches and possess an agenda to radically transform natural, economic, and socio-spatial landscapes. In this seminar, we will reflect together on the common issues of interest including genealogies, approaches and contestations of expressways as contemporary megaprojects.
Key questions will include the following: 1) how do approaches and contestations to contemporary megaprojects and large-scale infrastructure development help us understand policies and programs geared toward the realisation of sustainable urban futures? And 2) what new forms of governance, technologies, technocratic and cultural practices, and ideas about citizenship are emerging in relation to their acceleration as components of such new policies, programs and phenomena in Africa?
To join in-person: https://www.eventbrite.co.uk/e/485304106647
To join online: https://www.eventbrite.co.uk/e/485304537937
Part of the GlobalCORRIDOR Seminar Series funded by the ERC
Flagship institutes
The University's four flagship institutes bring together our key strengths to tackle global issues, turning interdisciplinary and translational research into real-world solutions.