Dr Linda Westman
PhD
Faculty of Social Sciences
Research Associate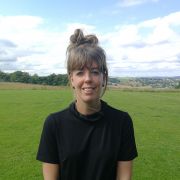 l.westman@sheffield.ac.uk
Interdisciplinary Centre of the Social Sciences (ICOSS)
Full contact details
Dr Linda Westman
Faculty of Social Sciences
Interdisciplinary Centre of the Social Sciences (ICOSS)
219 Portobello
Sheffield
S1 4DP

Profile

Linda is a Research Associate at the Urban Institute. Linda's research focuses on environmental politics, including dimensions such as urban climate governance, transformations, and justice. She joined the UI in 2019.

Her work sits within the UI Climate Urbanism theme. She currently manages a work package of the ERC-funded project LO-ACT (https://www.loactproject.com/), which examines urban climate imaginaries in international policy and climate innovation in ordinary cities in the Global South. 

Together with Vanesa Castán Broto, Linda recently published Urban sustainability and justice: Just sustainabilities and environmental planning (ZEB Books), which examines sustainability and justice in cities with an emphasis on postcolonial and feminist scholarship. Linda is chapter scientist and contributing author of Chapter 6 of the IPCC Assessment Report 6. She is also co-founder of the Urban Working Group of the Earth System Governance network. 

Before joining the UI, Linda was based at the University of Waterloo in Canada, where she conducted research on contributions of businesses to urban sustainability transformations. She has previously examined political dimensions of urban climate governance in China. Prior to her academic work, Linda was employed as senior policy analyst at the Science and Innovation Office of the Embassy of Sweden in Beijing.
Research interests

Linda's research interests revolve around multiple dimensions of environmental politics. In her current work, she is documenting the evolution of urban imaginaries in international climate policy. 

Her previous research has examined empirical and conceptual perspectives of urban climate governance. This includes environmental policy discourse and governance dynamics in cities in China. Her research has questioned the application of theoretical frameworks developed within a Eurocentric tradition and the meaning of established governance concepts (e.g., partnerships, multilevel governance, transitions) in this political setting. 

Another focus is the involvement of private sector actors in urban climate governance. She has sought to open up alternative perspectives on the relationship between businesses and society, including by conceptualizing the political agency of firms, institutional perspectives on entrepreneurship, and thinking of businesses as 'social actors'. Finally, her work engages with challenges of realizing urban sustainability trajectories that are both transformative and just. This relates especially to feminist critiques of sustainability discourse and the difficulties of theorizing transformative change from within dominant knowledge paradigms.