We strongly believe that our people are at the heart of everything we do. We employ over 250 employees across the department with hundreds of extra casual staff across the year adding value to the services we provide.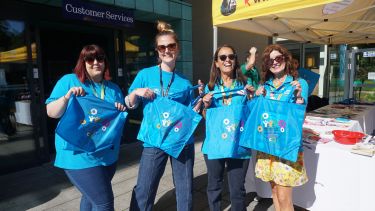 Off
We embed our strong values and beliefs into our colleagues from the beginning of their journey with us and throughout their entire career. With a customer-centric attitude, we provide an outstanding service every time - exceeding expectations for both students and visitors.
Following a £160 million investment, achieved in collaboration with a partner organisation, our student residences at Endcliffe and Ranmoor are among the best in the country, providing modern accommodation and social facilities for students as well as state-of-the-art conference and event spaces.
---
The Directorate
Caryn Masters - Director of ACS and UNICUS

Ian Jones - Deputy Director of ACS and UNICUS

David McKown - Head of Training and Quality

Dave Orwin - Head of Finance
Recognising our people's achievements
We recognise the importance of our employees and we have several initiatives in place to develop and reward them.
Our department has consistently been awarded the Investors in People standard, a national quality framework, which helps us to improve performance and realise our objectives through effective management and development of employees.
Training and quality are at the heart of the ethos of the department, for which we employ a dedicated Head of Training and Quality.
Staff Awards
We hold an annual Staff Awards Evening where we recognise colleagues who have worked at the University for a number of years, those with exemplary attendance and those who have achieved nationally recognised training awards.
It also gives us the opportunity to announce the winners of the People's Awards, in which a shortlist of candidates is nominated by their colleagues within the department. The People's Award winners are then decided by a judging panel, recognising the exceptional contributions that our colleagues have made during the course of the year.
Inspiring leadership
We aim to provide a motivational and inspiring work environment for employees, leading by example with initiatives such as "Back to the Floor", where individuals in senior management roles spend a day carrying out a completely different job role such as housekeeping or portering.
Our ACS conferences engage employees from all teams in discussion and activities, which enable them to meet people in different teams and to provide feedback or add their ideas to projects that are happening in ACS.
As well as events, we also have several written communications. Our quarterly ACS newsletters are an informal way for employees to share news with their colleagues across the department, whether they have become a parent, are looking forward to retirement after a long service or have participated in a charity fundraising event. Our quarterly ACS briefings provide employees with important business updates in a bite-size format that is easy to comprehend.
A global reputation
Sheffield is a research university with a global reputation for excellence. We're a member of the Russell Group: one of the 24 leading UK universities for research and teaching.