Aerospace Engineering retains top spot in the Russell Group for student satisfaction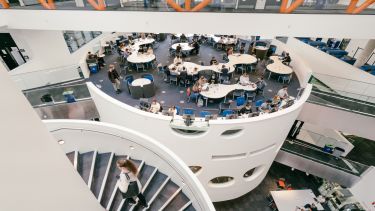 Once again, aeronautical and aerospace engineering at the University of Sheffield has been ranked number one for overall satisfaction in the Russell Group, the association of leading UK research-intensive universities, in the National Student Survey (NSS).
For the third year running, the University's teaching of aeronautical and aerospace engineering came first in the country, with a rating of 91% for learning resources and 92% for overall satisfaction.
This follows the theme of success for the Faculty of Engineering, with subjects such as mechanical engineering, materials technology, production and manufacturing engineering and computer science also ranking at the top in the Russell Group for student satisfaction.
The annual survey canvasses students who are in their final year of undergraduate studies for their opinion on key aspects of their University experience, including learning and teaching, assessments and feedback and academic support.
The annual league table has shown that overall satisfaction among University of Sheffield students across all faculties is two per cent above the national sector-wide average. The Students' Union also saw a score that is 15 per cent above the sector average for satisfaction, which places it first in the Russell Group.
A world-class university – a unique student experience
Sheffield is a research university with a global reputation for excellence. We're a member of the Russell Group: one of the 24 leading UK universities for research and teaching.