Since I was a child, I have always had a fascination with space and spacecraft

Brandon O'Connell
Undergraduate student
Aerospace Engineering with a Year in Industry MEng
Sheffield native Brandon knew that staying local was the best option for his studies, thanks to the university's reputation and facilities.
Since I was a child, I have always had a fascination with space and spacecraft and I loved studying physics, maths and chemistry at school.
This led to me choosing those subjects at A-level and when it came to deciding what to study at university, I realised that as much as I appreciated the theoretical side to science, I was much more of a hands-on learner.
I always wanted to solve real-life, physical problems and understand how machines worked. So after considering all my options, I knew Aerospace Engineering was just right for me.
Aerospace encompassed aspects from all disciplines and I knew it could give me a strong, broad level of understanding, making me fully capable of tackling any problem. It also provided me with the means to build rockets and satellites in the future!
---
My favourite part of the course so far has to be the Flight Day. After a year designing, prototyping and manufacturing a fixed-wing UAV as a team of six, this was the day we actually got to see our UAV fly!

Brandon O'Connell

MEng Aerospace Engineering with a Year in Industry
---
Although born and bred in Sheffield, I knew the University of Sheffield was the perfect place for me to study.
Aerospace at Sheffield has a great reputation and with the new building, the Diamond, it was a no-brainer. The new facilities have specialist kit, designed purposefully by the technical teaching staff, in order to help reinforce our learning.
Sheffield also supports many extra-curricular engineering projects which give us students the chance to implement our learning.
My favourite part of the course so far has to be the Unmanned Air Vehicle (UAV) Flight Day, as part of the third year group design project. After a year designing, prototyping and manufacturing a fixed-wing UAV as a team of six, this was the day we actually got to see our UAV fly! It was a great opportunity to put all our learning into practice and work alongside other brilliant aerospace engineers to create our own aircraft.
In my first year at Sheffield, I was chosen to be a part of the Sheffield Engineering Leadership Academy (SELA).
SELA has been invaluable, alongside my degree, in helping me learn crucial leadership and management techniques through skills workshops and talks with industry leaders.
The programme has provided me with continued support and has opened up many opportunities that have allowed me to grow and develop into a future engineering leader.
I'm now really looking forward to undertaking my placement year at Dyson and applying my knowledge to real-life engineering problems.
After I graduate, I really want to pursue a career in the space industry here in the UK, helping to drive the UK Space initiative and be a part of the huge growth in that sector. I hope to do this by getting directly into the industry, or through a PhD in a space-related field, such as novel propulsion systems or complex astrodynamics.
Sir William Siemens Challenge: MindSphere Live
I recently took part in the Sir William Siemens Challenge. The aim of the event was to creatively challenge and inspire the most talented engineering students from across the UK. It was fantastic that it took place right here in Sheffield in the Diamond's MindSphere.
Working in multidisciplinary teams, we were challenged with using our programming skills to analyse data collected from the Diamond Building's MindSphere installation in order to build a mechanical or electrical device which showcased the data and brought it to life in a unique way – all in 48 hours.
My favourite part of the challenge was definitely being given the opportunity to use a lot of expensive kit, and have a clean slate to design and make whatever we wanted. It allowed for so much creativity and imagination, and this really showed when all the designs were displayed at the end of the competition. It definitely showed engineering in its purest form.
Throughout, I learned that I need to learn so much more about the digital revolution and programming! I focused mainly on the mechanical and build aspect to the project, but I would have loved to have helped the electronics and programming guys on their side.
It is great to work with other engineers from multiple disciplines because you learn so much from one another and can develop and grow together as engineers.
My team – Team Simotion – used our combined skills in electrical and mechanical engineering, robotics and computer science to create a beating heart device which was judged – by a team of senior managers and engineers from Siemens - to be the most deserving against the criteria of collaboration, adaptability, problem-solving, data, engineering and creativity.
It was a huge shock when we won! I was incredibly proud of my team and after working tirelessly over the weekend, it was great to know that all our hard work had paid off. We now have our creation permanently displayed at the University, as well as being offered the opportunity to undertake an internship with Siemens.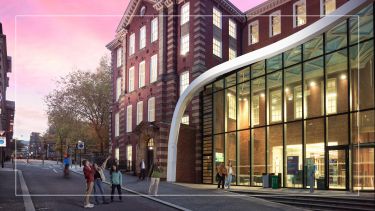 Visit us
Discover what sets Sheffield apart at our undergraduate open days on the Saturday 21 October or Saturday 18 November.