I don't think I would be where I am if it were not for all the countless opportunities my supervisors gave me

Siung Chong
Aircraft Data Analyst
Scandinavian Airlines
Siung Chong graduated with a BEng in Aerospace Engineering and went on to do a PhD in Space Physics at the University of Sheffield. Here he talks about his experience at Sheffield and how it's shaped his career as an Aircraft Data Analyst at Scandinavian Airlines.
What are your main responsibilities in your job?
My job involves analysing both the aircraft sensor and operational data, with a primary focus on sustainability and fuel efficiency. I am tasked with generating useful insights from the astronomical amount of data here at Scandinavian Airlines (SAS).
Can you describe a typical day?
Since my responsibilities are considerably fluid, I have not had the same work day twice! On a typical week, there are often brainstorming sessions with topics primarily on identifying various initiatives and approaches to optimise fuel consumption to reduce CO2 emissions.
To work on these different initiatives, we will mine and gather data from various sources. We will then clean and filter the data before conducting statistical analyses to generate some (hopefully) useful insights. These insights will be fed back to the relevant departments especially the pilots who can then make adjustments accordingly to maximise safety and efficiency on their next flights.
Just a few weeks ago, I had the opportunity to sit in the jumpseat with my pilot colleagues showing me the working operations in a cockpit (while navigating through the beautiful fjords and over dramatic mountain tops). Talk about good office views!
What is the most rewarding aspect of your current role or your greatest career achievement so far?
Climate change and sustainability are important topics these days. As individuals, we would recycle and reduce energy consumption in our day-to-day life for the same goal. I would like to think that my role at SAS allows me to achieve the same but on a larger scale.
There are many best practices that pilots could employ to improve fuel efficiency. One example is to taxi in with one or more engines shut down. If all of these initiatives are being implemented, we could save at least 100kg of fuel per flight!. That's tonnes and tonnes of fuels and carbon dioxide being saved per month!
I also hope that all of these initiatives could perhaps pave ways for greener flying cultures for the next pilot generations. Therefore, it's rewarding to know that I play a part, albeit small, in minimising the climate impact of air transport.
What are the most challenging aspects of your job?
Aviation is a huge industry and it's ever changing and evolving. One can put in hours and days and weeks on textbooks and in the lecture halls, but I personally don't think there will ever be a point where one fully grasps the aviation industry!
Despite graduating with an Aerospace Engineering degree, I still find myself frequently online searching different terms, but I want to emphasise that this is also an exciting aspect of my job where I get to learn on a daily basis. Perhaps that's why I have yet to find myself being bored at work!
What skills and qualifications from your degree do you make use of in your job?
I would say that my general knowledge in the aviation industry gained from my degree and my experience with big data analyses gained from my doctoral degree definitely made me feel more comfortable in my role.
How have these skills or your course made a difference in your career?
The University fo Sheffield is like a melting pot of cultures where students are from all walks of life. I have definitely learnt how to interact with people with different cultures, backgrounds and beliefs. Such soft skills are very valuable in the working environment.
We also had lots of hands-on course work. In one of the courses, we got the chance to build our own mini modelled turbine from scratch! In our aircraft dynamics module, we also flew in a small turbo-prop to collect some data to learn more about the aircraft certification requirements.
In my PhD, I was consistently challenged for new research interests and ideas. I think all the accumulated experiences I had from the University have definitely equipped me to tackle my current roles at SAS.
Why did you choose to study at Sheffield rather than another institution?
The University of Sheffield was top ranked in Aerospace Engineering degrees when I was looking for universities to apply to. I was also looking for universities with a strong Students' Union where I could participate in many extra-curricular activities. Sheffield ticked all the boxes, so it was not a tough decision to make for me.
Did your time at Sheffield meet your expectations?
Absolutely and beyond! I have spent a total of 8 years in Sheffield, some of the best and most important times of my life. Moving to the UK was the first time I lived abroad. I have met great friends whom I am still in touch with. I joined plenty of committees and societies where we worked on incredible events. I have logged in hundreds of hours at Sheffield Volunteering where I got the chance to be closer to the local community. I worked as a bartender at SU. I also had the opportunity to give back to the University by working as an orientation assistant to the new prospect students for 4 years. The decision to further my studies at the University is definitely one of the best decisions that I have ever made.
What were the best things about studying Aerospace Engineering?
There are many different modules we had to take in Aerospace Engineering course. They range from Mechanical Engineering, Material Science, Computer Science, Control Systems, Mathematics, Electrical Engineering as well as law and management! That means as a student, I got the opportunity to learn many different aspects of engineering. This definitely helped in widening the job opportunities in my career. Not to forget about the hands-on course work that I was given and the world class facilities that I was taught in.
I also want to mention my PhD supervisors Simon Pope and Misha Balikhin. Both of them treated me like a family. I was encouraged to always go beyond. I was constantly reminded that I am capable of achieving great things. I don't think I would be where I am if it were not for all the countless opportunities they gave me. These excellent people and and my colleagues at the Space Systems Laboratory are definitely amongst the best things about studying at Sheffield.
Where do you see yourself in the future?
Ha! Tough question. I am loving my job so far and there are limitless opportunities at work so for the near future, I still see myself being excited squeezing all the useful insights from the big data!
If you could give one piece of advice to current students or recent graduates, what would it be?
Studying is very important. It should be the primary aim, but it should not be the only thing you do at the University. Get an internship, apply for a year abroad, sign up to all the different activities, try out the sports and activities that you always want to do, travel to the cities that you always longed to visit.
In the end, it will not be the hours you spend in the libraries that you remember, it will be those blissful moments you shared with your dear ones. Live your life to the fullest!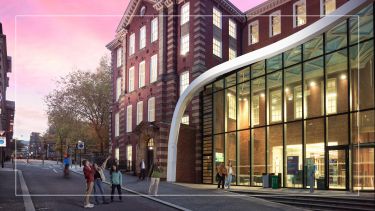 Visit us
Discover what sets Sheffield apart at our undergraduate open days on the Saturday 21 October or Saturday 18 November.