Petrie Watson funding supports our student field work experiences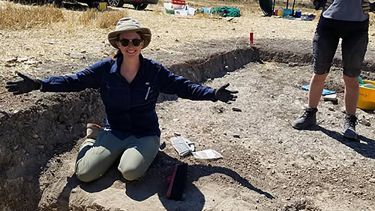 ---
I have been invited to assist Dr. David Griffiths, the site ceramics specialist, in the processing, cataloguing, and analysis of the unstudied pottery assemblages.

Kelsey Madden

PhD student
---
Kelsey's PWE award will fund her participation in the Vagnari Roman Imperial Estate Archaeological Project, under the direction of our own Professor Maureen Carroll. This season, Kelsey will gain more experience in pottery processing and analysis.
---
---
Katherine Maeer - BA Archaeology
Katherine's PWE award is supporting her participation in the Sedgeford Historical and Archaeological Research Project (SHARP) in Norfolk, where she will both get more excavation experience as well as learn more about non-invasive and landscape archaeology.
---
The award is going towards me getting valuable and fun experience in archaeology and letting me learn more about landscape archaeology, something which I think I may want to go into.

Katherine Maeer

PhD Student
---
Thomas and Oliver - BA Archaeology and History
Thomas and Oliver are spending four weeks this summer at an excavation of the Neopalatial (1600-1450 BCE) Mansion House of Gaidourophas in eastern Crete. Their interest in this region was sparked by our second year module 'Minoans: Crete in the Bronze Age' and their participation in this project is supported by PWE awards.
---
Having studied Neopalatial Crete (writing our end of term assessments and exam answers on this time period) we were extremely enthusiastic about taking the opportunity to excavate on such a significant site.

Thomas Dunn and Oliver Horsfall

BA Archaeology and History
---
Apply for a Petrie Watson grant
The Petrie Watson grants are usually between £250 and £750 and are awarded for projects which enhance or complement a student's current programme of study, the funding can be used to cover costs such as travel, accommodation and conference or course fees.
Applications open in January 2020. To find out more, please speak to your tutor.
A world-class university – a unique student experience
Sheffield is a research university with a global reputation for excellence. We're a member of the Russell Group: one of the 24 leading UK universities for research and teaching.