Dr Elizabeth Craig-Atkins
BA (Hons), MSc, PhD
Department of Archaeology
Senior Lecturer in Human Osteology
Co-Course Director – MSc Human Osteology and Funerary Archaeology
Departmental Director of Impact and External Engagement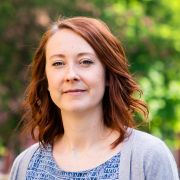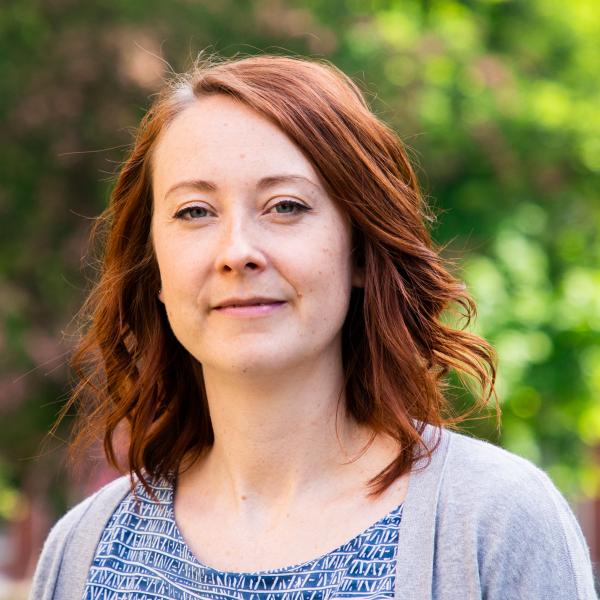 Profile

I trained as an archaeologist at Durham University from 2002-5, moving on to specialise in human skeletal analysis at Masters level at the University of Bradford.

Following the completion of my doctorate "Burial Practices in Northern England c. A.D. 650-850: A Bio-Cultural Approach" at Sheffield in 2010, I taught Human Osteology in the Department of Archaeology during 2010-11.

I was Demonstrator in Anthropology at Bournemouth University from 2011-13, where I taught skeletal analysis and managed their human remains collections. I returned to Sheffield in March 2013 as Lecturer in Human Osteology.
Qualifications

PhD
MSc Human Osteology and Palaeopathology
BA (Hons) Archaeology
Research interests

I am a specialist in human osteology and palaeopathology with particular interests in multidisciplinary approaches to questions surrounding past population structures, health, disease and lifestyle.

I have worked with human remains from many periods and locations, but have primarily focussed on material from post-Roman to modern periods in the UK.

My current main areas of research include:

Multidisciplinary analysis of osteological and funerary data from early medieval to post-medieval contexts
The character and provision of funerary practices in early Christian and medieval England
Health status and social status in past populations
Disease, disability and disfigurement in the past (including social attitudes to sickness and medical/surgical interventions)
The archaeology of childhood
Archaeology of the body, especially practices for managing, manipulating and curating human remains

---

Current research projects / collaborations

The archaeology of childhood

Infant-specific funerary rites and childhood identity in early medieval England. This project has incorporated isotopic evidence for physiological and dietary status alongside analysis of skeletal, funerary and spatial data to explore the so-called 'eaves-drip' burial rite. Original data collection was funded by The University of Sheffield's Early Career Researcher Scheme in collaboration with Dr Julia Beaumont, University of Bradford
Marking Maternity: Integrating historical and archaeological evidence for reproduction in the late eighteenth and early nineteenth centuries. Part of the British Academy funded project 'The Material Body' with Prof Mary Fissell, Johns Hopkins University
Supervisor of AHRC collaborative doctoral award 'An interdisciplinary exploration of the social impact of foetal and perinatal mortality during the industrialisation of England' with Museum of London Archaeology (MOLA) 2020-24.

---

Human remains and funerary practices of the medieval and early modern periods

The Material Body: An Interdisciplinary Study Using History and Archaeology, in collaboration with Prof Karen Harvey, University of Birmingham. Funded by the British Academy. Edited book with Manchester University Press forthcoming (2021).
Tents to Towns: The Viking Great Army and its Legacy. Analysis and interpretation of Viking and medieval period burials in the vicinity of the Viking Winter Camp at Torksey, Lincolnshire, in collaboration with Prof Dawn Hadley, Prof Julian Richards and Dr Gareth Perry, University of York
The Rothwell Charnel Chapel Project. A multidisciplinary exploration of a unique medieval charnel house in Rothwell, Northants. In collaboration with Dr Jenny Crangle, Wessex Archaeology, Prof. Dawn Hadley, University of York and Dr Paul Barnwell, Cambridge University

---

Archaeologies of the Norman Conquest

Examination of Anglo-Norman funerary rites and the integration of studies of human skeletal remains into a multidisciplinary archaeological narrative of the Conquest through the subjects of diet and foodways. I am part of a research network "Archaeologies of the Norman Conquest" funded by the AHRC and my research of material from Anglo-Norman Oxford has been funded by British Academy, Society for Medieval Archaeology and RAI.

---

Knowledge exchange and co-production in archaeology

I am PI of the Roots and Futures project which is a collaborative project to explore co-constructed community heritages in North Sheffield. External collaborators include Kelham Island Museum, ECUS and community organisations KINCA and Zest. Activities in Spring/Summer 2020 supported by the University of Sheffield Knowledge Exchange fund included the creation of an interactive web app.
Publications

Journal articles

Chapters

Book reviews

Conference proceedings papers

Reports

Datasets

Other
Research group

Current Research Students

Former PhD Students

Jenny Crangle (2015)- "A study of post-depositional funerary practices in medieval England"
Emma Green (2018)- "What are we missing? An Archaeothanatological Approach to Late Anglo-Saxon Burials"
Teaching activities

Undergraduate

Postgraduate
Professional activities and memberships

Fellow of the Higher Education Academy (FHEA)
Elected Treasurer, British Association for Biological Anthropology and Osteoarchaeology (BABAO)
Conferences

Craig-Atkins, E., Madgwick, R., and Jervis, B. 2018. Rethinking the Impact of the Norman Conquest using Archaeological evidence of Diet and Food Culture. Haskins Conference 2018, University of North Carolina, Chapel Hill. October.
Craig-Atkins, E., Crangle, J., Barnwell, P., and Hadley, D. 2018. 'The sculls that lie heap'd up ': Post-mortem interactions with human remains in the charnel house at Rothwell, Northamptonshire . European Archaeological Association, Barcelona, September.
Fissell, M. and Craig-Atkins, E. 2018. Marking Maternity. Keynote delivered at the Material Bodies in Archaeology and History conference, organised by E Craig-Atkins and K Harvey, Birmingham, June.
Craig-Atkins, E. 2018. Grave Concerns: A new project exploring the management and maintenance of cemetery space c. 1700-2000. Cremation and Burial Communication and Education conference, Newcastle, June.
Craig-Atkins, E., Crangle, J. and Hadley, D. 2017. The chronological and liturgical context of charnel practice in medieval England: manipulations of the skeletonized body at Rothwell Charnel Chapel, Northamptonshire. Society for American Archaeology, Vancouver, April.
Hadley, D., Crangle, J. and Craig-Atkins, E. 2017. The Afterlife of the Charnel Chapel at Rothwell (Northants.). Society for American Archaeology, Vancouver, April.
Craig-Atkins, E., Beaumont, J. and Towers, J. The influence of weaning status on childhood identities: preliminary findings from an incremental isotope study of early medieval infants. Little Lives conference, Durham, Jan 2016.
Beaumont, J., Buckberry, J., Montgomery, J., Haydock, H. and Craig-Atkins-E. 2015. Out of the mouths of babes and sucklings… A comparison of aging age using bone collagen and incremental dentine collagen from Raunds Furnells. British Association for Biological Anthropology and Osteology conference, Sheffield, Sep 2015; and the American Association for Physical Anthropology Conference, Atlanta, USA, April 2016.
Craig-Atkins, E. New insights into the control and management of Christian burial in England: A Case Study of 'Eaves-Drip' Burial. EAA conference, Glasgow, September 2015.