The collaborative approach to working that Niki enjoyed on the MArch course is a skill she has used regularly in her job.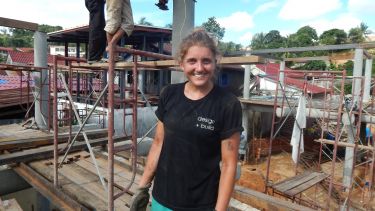 Off
How has your degree experience helped you in your career?
I am continuously using my design skills which I developed during the course. Working collaboratively, as is promoted at Sheffield, is also something which is directly used on a daily basis in my job. As an ASF Associate I am able to directly apply the research I undertook during my MArch dissertation to my work for the charity.
Where did life take you after graduation?
To begin with, I worked for a research group called 'Around the Toilet'. They were my 'clients' during my fifth year live project and this gave me time to reflect on my years studying before plunging into architectural practice. Having time to consider what kind of architecture I wanted to be involved in, and in what environment I wanted to work, made me recognise the benefits of applying for a variety of jobs with practices of different sizes, in different sectors. It also made me explore the possibility of working in a completely different field. Having a variety of interviews at different places helped me decide the environment I wanted to work in. Having given myself this time I became more confident in what I was looking for in a job.
---
University is a time when you have the opportunity to explore subject areas that interest you. If there's something that you are passionate about, use this in your design project.

Niki Sole, MArch Architecture graduate
---
What is your current job like?
I'm working for a small emerging practice who are still relatively new. There are three of us full-time and two part-time so we're a tight-knit group. It's a very socially driven practice where everyone's opinion and input is welcomed in a shared goal to make architecture that is good for people and the planet. I have just started my Part III so I'm taking on more responsibility with regards to management of projects and the running of the practice. As an emerging practice, it is exciting to see my ideas and input being used to shape the practice as it develops and grows.
What advice would you give to a current architecture student?
Architecture is so much more than buildings. Take time to step away from the course and take part in other things you are interested in too. It's easy to get lost in the depths of design but time away will give you the chance to reflect and make you a better designer. University is a time when you have the opportunity to explore subject areas that interest you. If there's something that you are passionate about, use this in your design project. Architecture requires a plethora of skills and university is the perfect place to make these stronger. Use reviews and tutorials as places to improve these skills; if you want to improve your presentation skills, ask people what they think of your presentation or how someone who's presentation you liked approached theirs.
Is there anything else you would like to share with students?
During my time at Sheffield, I tried to make the most of what the university had to offer. I undertook a French language module, joined the triathlon club, organised lectures for the Architecture Society and started a new Humanitarian Architecture Society. I also went to a lot of lectures, talks and symposiums held by other courses and departments within the University, at Sheffield Hallam and across the city. This gave me a greater understanding of the context we're working in and a different perspective on design. Sheffield is full of friendly people and they really make it a home-from-home when you're at university. Beyond that, the Peak District is on the doorstep - it's something I really miss now I'm gone.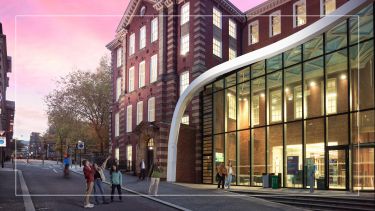 Visit us
Discover what sets Sheffield apart at our undergraduate open days on the Saturday 21 October or Saturday 18 November.