My placement has been the most fun and challenging experience of my life

Christopher Mountain
Undergraduate student
Bioengineering with a Year in Industry MEng
Christopher was interested in the field of bioengineering but wasn't sure which course to pick. When he found the course at the University of Sheffield, which let him gain a broad understanding of the field before specialising, he knew it was the right choice.
My favourite subjects have always been maths, science and electronics; so when I started thinking about degree courses, engineering was the obvious place to start.
Around the same time, I came across an article about a team of engineers incorporating sensory feedback into a robotic arm prosthetic - so that a patient could literally feel using their robotic hand - which blew my mind, and introduced me to the field of bioengineering.
Reading around the subject, it sounded incredibly futuristic and exciting, not to mention worthwhile given the difference health technology can make to people's lives.
Since bioengineering is a hugely diverse field, I really wasn't sure where to start - so the course at Sheffield struck me as ideal, because you initially gain a broad understanding of the entire bioengineering space, allowing you to make informed decisions about the area you'd like to specialise in later.
Bioengineering is all about using engineering as a tool to solve medical problems. When approaching rehabilitation or treatment, a bioengineer draws on engineering principles – such as electronics, mechanics, control or tissue engineering - to try and find the best solution for a patient or healthcare-related system.
The course here at Sheffield interdisciplinary, meaning you get a flavour of various different types of engineering (as well as biology, physiology and physics), which can be challenging, but also rewarding as it's a fascinating spectrum.
From the outset, it trains you to take a diverse approach to tackle a problem, drawing on a broad basis of technical skills from a range of disciplines. After the first year of study, the course is split into three streams (Biomedical Engineering, Tissue Engineering, and Medical Devices and Systems) which share core modules, but allow you to specialise in the areas that most interest you.
The highlight of the course for me so far has been the MEng third year Group Design Project, where I and five peers had to design and build an automated bio-reactor, in which human cells could be grown for one week without human intervention.
This was good fun, as the work was hands-on and we had total control of our designated budget and management plan. I was responsible for creating control systems for temperature and CO2 concentration, and it was seriously satisfying to see that, at the end of our week-long final demonstration, they had kept our cells alive and well.
---
Throughout the project, I was impressed by how approachable and enthusiastic the researchers and staff were; always willing to make time to discuss ideas or explain a concept, which helps foster a much deeper understanding than can be obtained from lectures alone.

Christopher Mountain

Bioengineering with a Year in Industry MEng
---
My Year in Industry placement at Philips Healthcare in the Netherlands has simultaneously been the most fun and challenging experience of my life.
During my third year, three friends and I entered the Royal Academy of Engineering's (RAEng) Engineering a Better World Student Innovation Competition, which aims to get aspiring engineers thinking about innovative ways to address the Global Grand Challenges that face humanity today. My friend and fellow Bioengineer, Russell Grim, came up with the idea to build a functional prosthetic arm using only parts from a bicycle - which could help amputees in third world countries who cannot afford or access prosthetic-fitting services.
As a team, we researched the need, optimised our solution and generated a business plan to implement the idea. As we progressed through the competition, we were given business training and workshops by the RAEng to help us put forward the most robust business proposal we could. Having completed a series of 'Dragon's Den' style pitches, we were flown out to the final round in Washington DC, competing with 14 other teams from the UK, US and China for a final prize of up to $50,000. Although we didn't win the jackpot, it was still a fantastic adventure that helped us develop entrepreneurial skills and has made me more confident in my ability to present technical ideas.
I'm currently on a Year in Industry placement, working for Philips Healthcare in the Netherlands, which has simultaneously been the most fun and challenging experience of my life. The university has been really supportive throughout my application and placement, and made the transition as smooth as possible. In particular, the Employability and Interdisciplinary Engineering teams helped me to make the best application and CV possible, as well as ensuring I was fully prepared before starting work. Most importantly, the knowledge and skills I've developed throughout my degree are useful on a daily basis - whether it's programming, data analysis, problem solving, or presenting ideas.
Sheffield's a great city and I'm looking forward to coming back for my final year. There are loads of beautiful parks (perfect for BBQ's in summer), and a lively centre with awesome night life and music scene.
It's very hilly, but if you're willing to climb then the views from the top are always worth it - watching the sunset from Bolehills on a summer afternoon is a must! Since most of the engineering buildings are right next to the city centre, it's nice to be able to pop out for lunch with friends or stop at the pub after a long day's work. Also, just a short bus ride away, I'd really recommend walking or biking around the Peak District; there's not much that can beat the view from the top of Win Hill, or finding a cosy café in Bakewell for a taste of the original Bakewell tart.
I'm keeping my options open about what to do after graduation - I may continue with research and progress onto do a PhD, or I may broaden my experience with more placements through an industrial graduate scheme. Whatever I do, I'm confident that my Bioengineering degree will leave me well equipped for these next steps."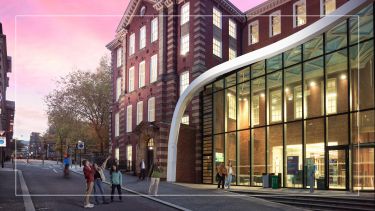 Visit us
Discover what sets Sheffield apart at our undergraduate open days on the Saturday 21 October or Saturday 18 November.