Get involved in as many activities as you possibly can!

Clara Polaco
President
Bioengineering Society
We have many student societies to choose from. We had a chat with the President of the Bioengineering Society – Clara Polaco – about why they should be your first choice.
What are your aims and ambitions?
The aims of our society are to organise socials, career events, volunteering opportunities and sports activities for all members (and even general public) in order to help and create the feeling of community in the course, not only between students but also lecturers and staff.
Who are your members?
Our members are mainly students of the Bioengineering course. These come from all over the world, as we have a very international group of students. We have students from all continents and that come from a variety of academic backgrounds.
Can anyone join your society?
Any student or affiliate member of our student's union can join.
What sort of things do you do?
Our society organises social events, such as walks in the Peaks, pub quizzes, ice skating activities, Christmas dinners, annual Spring Balls, amongst many others!
We also have weekly sports sessions where our society plays netball and football with other society's teams.
We do have some nights out, bar crawls and support sessions for modules that first and second years might find more difficult. These are led by volunteers from who are further on in their degree.
We have had career newsletters in former years and often announce career opportunities useful for our members in our social media pages. This year we are also looking into organising a  career showcase dedicated specifically for bioengineers with the Department during the second semester. This will help them find appropriate opportunities and network with industry partners.
Every semester we have volunteering opportunities such as outreach projects for schools and other events such as "Science Alive."
What do you and your members love about studying at Sheffield?
Our members really enjoy the variety of activities we offer them and also all of the other opportunities provided by other societies. The number of activities and opportunities available is amazing. There is always something happening regarding academic interests and hobbies.
Sheffield is a university that highly focuses on having their courses directed towards industry and the courses (at least engineering ones) are filled with practical projects where we can put in practise what we learn in theory.
We also find that Sheffield and our Department is very understanding of mental health conditions and disabilities and really try to help us if we ever feel like the workload is overwhelming or we're going through a rough phase – a BIG thank you to our Support Officer!
On top of this, the University is very inclusive.
What do you think really showcases your society and sets it apart from others?
Our society really tries to bring members together and get students from different years to meet each other and socialise. We also try to involve lecturers in our activities and student leaders stay in contact with staff to bring problems or positive points of studying to attention.
We are a society primarily focused on the students and how to help them make the most of every opportunity and life in university in general!
Is there any advice you could give to students thinking about coming to Sheffield?
Get involved in as many activities as you possibly can! Of course, first is the degree but many activities are manageable with the workload and these help everyone develop transversal skills, meet people with different or same interests and learn so much more than our degree.
This is what really sets us all apart from other universities when competing for jobs.
These activities also really help to keep us motivated in our studies as we see how we can use our knowledge in real life situations.
I would also advise students to attend some of our events. It's such a great opportunity to bond with other people in the same course but outside the course related projects and environment. It also gives everyone the opportunity to meet older students that have more experience and can help them in their modules and personal problems too!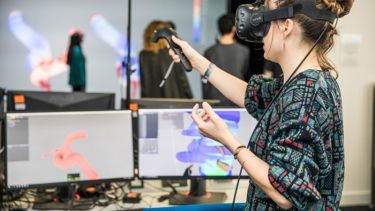 Careers and Employability
Using ground-breaking technological innovation and the precision of carefully-applied engineering concepts, bioengineering is a distinctive subject area in its own right that is changing lives all over the world.
Students who study Bioengineering develop knowledge and transferable skills tailored to their interests and their career aims. Having these skills makes them attractive to potential employers.
A world-class university – a unique student experience
Sheffield is a research university with a global reputation for excellence. We're a member of the Russell Group: one of the 24 leading UK universities for research and teaching.