The course so far has been fantastic

Robbie Morris
Undergraduate student
Bioengineering MEng
After witnessing how bioengineering could change someone's life, Robbie was inspired to apply for a course at the University of Sheffield.
I've always loved maths and science when I was in school and college and so a career in engineering seemed like a good fit. But it was something outside of academia that inspired me to want to study bioengineering.
When I was in high school, an athlete with a prosthetic leg joined my athletics group. I was absolutely fascinated by the way the device worked and overjoyed to watch how it enabled her to do something that gave her so much pleasure that she could have never done without the device.
This inspired me to want to get into the field of prosthetics, and of course, that led me to bioengineering.
---
The course so far has been fantastic. The first year is extremely varied and you'll do modules from lots of different departments such as electrical engineering, control engineering, maths, physics and biology.

Robbie Morris

Bioengineering MEng
---
This provides you with a really good understanding of lots of different fields and helps shape you into a well-rounded engineer.
In the second and third year, you have the option of picking different streams and modules depending on what you like. You can go down the more biology-based side, or the more engineering-based side or stay somewhere in between which is what I have done.
The course overall has a good balance between independent and taught learning. The lecturers are really friendly and approachable and will always help you if you are stuck. I would definitely recommend Bioengineering at Sheffield as I have loved it so far.
Sheffield is a great city, it has so much to offer. It's beautiful, friendly, and green – and it is so close to the Peak District, which is stunning.
I love just looking down a side road and catching a glimpse of the city falling into the valleys and then rising up into the hills the other side.
I didn't really believe it when people told me, but it truly is full of hills which you might say is a drawback but if you are a runner like me you'll love this.
The Students' Union lives up to its title as the best in the country, there are so many different activities and clubs to join and the events and nights out they put on are always such good fun.
I hope to one-day work on designing and producing prosthetic devices so that I can help and bring joy to the many people suffering from missing limbs, just like the athlete who inspired me to get into the field.
The course has put me in a great position to go forward and do this. The first year of the course provided me with a really good foundation of knowledge helping me to be a very well-rounded engineer and then the later years and my fourth year will allow me to specialise in the fields that I want to.
On top of this, I've enjoyed having the opportunity to experience working on real-world projects which is invaluable when applying for jobs.
There's lots of careers support available, including job and internship fairs which are a great way to ask representatives from so many different companies questions and really get an insight into what working for them would be like.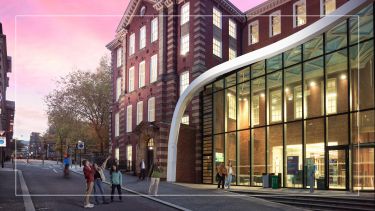 Visit us
Discover what sets Sheffield apart at our undergraduate open days on the Saturday 21 October or Saturday 18 November.