Information for designers, partners and agencies on using the University of Sheffield's visual identity.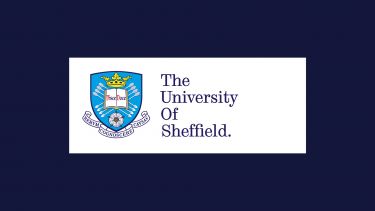 Marketing and communications info for staff
All of our guidance on marketing, communications, content and design is now hosted on the Marketing and communications hub.
Based on our original 1905 of arms, and with our legal name accompanying the shield at all times, our logo is associated with over 100 years of excellence. It is available for use by our partners and approved agencies and designers.
It should be used in conjunction with our guidelines for designers as detailed below.
To request a copy, or if you need further guidance, please contact marketing@sheffield.ac.uk
---
We have detailed guidelines available for designers on all aspects of our visual identity, including proper use of our logo.
To request a copy of this, please contact marketing@sheffield.ac.uk
---
Our fonts Stephenson & Blake are the copyright property of the University and are available only to staff and approved supplies.
The Stephenson serif font is a modified version of a design by Sheffield company Stephenson & Blake Co. Typefounders, established in 1818. At the height of Sheffield's power as a producer of steel, Stephenson & Blake was the world's largest manufacturer of metal type.
Sir Henry Stephenson, co-owner, was one of the University's founding fathers. In 1895, he became part of a hugely important movement that saw the wealthy and the powerful join forces with the ordinary working people of the city to create a university for the good of everyone.
Stephenson and its sans serif companion, Blake, were chosen with the assistance of the National Type Museum in London and redrawn for us by renowned type experts House Style Graphics.
If you require access, please contact marketing@sheffield.ac.uk
---
Please direct all queries to our Media and Public Relations team, or see our information for journalists.
A world top-100 university
We're a world top-100 university renowned for the excellence, impact and distinctiveness of our research-led learning and teaching.