Cloud To Coast Project (C2C)
Cloud to Coast (C2C) was a research project to develop an integrated model to predict the exposure to pathogen risks and their health impact assessment, in near-shore coastal waters.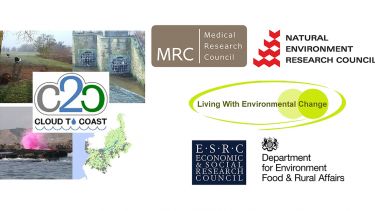 Objectives
The overall aim of the project was to significantly improve our ability to predict the exposure to, and health impact assessment of, pathogen risks in near-shore coastal waters, as indexed by Faecal Indicator Organisms (FIOs).
A fate and transport model was used, incorporating rainfall and catchment sources to coastal receiving waters, to analyse policy options for a range of future scenarios including climate change - in terms of changes in rainfall - and to relate the outcomes to actual and perceived risks.
The following major scientific objectives and deliverables were proposed:
To develop an integrated cloud-to-coast numerical model of the hydrology, hydraulics and fate and transport of FIOs (as the index of pathogens).
To estimate the urban point and diffuse loads of FIOs arising from continuous and intermittent discharges, and the spatial and temporal pattern of agricultural loads of FIOs using land use, soil and topography, for input to the numerical model.
To collect new data on FIO concentrations in the study catchments and coastal waters to inform and calibrate 1 and 2 above.
To calibrate and validate the overall process model against new empirical data provided by 3 above.
To enhance disease burden modelling and quantitative microbial risk assessment procedures to produce a dynamic quantitative health impact assessment.
To create an emulator of the overall model for rapid prediction of FIO for scenario analysis in policy and operational use.
To draw the different strands together to produce recommendations for policy.
To make the models, data, recommendations and guidance available to the public and user communities.
Dissemination
Publications and reports produced from the C2C Project can be found here.
Partners and Funding
C2C was undertaken at the Universities of Sheffield, Aberystwyth and Cardiff. The academic partners were supported by a Scientific and Technical Management Board including representatives from United Utilities, the Environment Agency, CH2M HILL Halcrow, University of Lancaster, Centre for Ecology and Hydrology, Defra, the National Farmers Union and the Ribble Rivers Trust.
The project was funded under the Living With Environmental Change (LWEC) Environmental Exposure & Health Initiative (EEHI), jointly funded by the Natural Environment Research Council (NERC), Medical Research Council (MRC), Department for Environment, Food & Rural Affairs (Defra) and Economic & Social Research Council (ESRC), GR NE/I008306/1.
For any enquiries about the C2C project, please email Dr. Will Shepherd (Pennine Water Group, University of Sheffield) at w.shepherd@sheffield.ac.uk 
A world top-100 university
We're a world top-100 university renowned for the excellence, impact and distinctiveness of our research-led learning and teaching.