Catalan Studies Events: Cineforum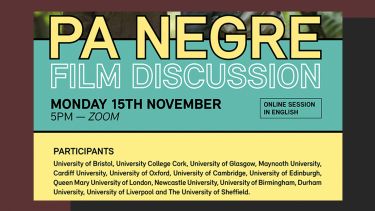 "At Sheffield we want to offer students a broad cultural experience in all of our languages, including in Catalan. Our Catalan film series proves very popular in and beyond Sheffield. It is a privilege to host these events and it puts Catalan at Sheffield firmly on the map", says our Catalan tutor Pol Masdeu Canellas. He talked us through the most recent event he organised: a cineforum with Catalan actors, a film producer, and over eighty students. 
Pa Negre
Pa Negre (Black Bread) – set in rural, post-Spanish Civil War Catalonia and the Spanish entry for the Oscars in 2011 – was our first film showing of the 2021-22 series. Our film showings proved very popular last year and our showing of Pa Negra in was no exception. The film, in Catalan with English subtitles, was available to Catalan students, but Spanish students across the university were most welcome too. 
In addition to watching the film together, we also wanted to talk about it. Thanks to the Institut Ramon Llull we could bring together over eighty students for a film discussion on 15 November 2021. This was an exciting opportunity: the two main actors, Francesc Colomer and Marina Comas, attended the cineforum as well as Isona Passola, the film producer and former president of the Catalan Film Academy.
The eminent guests talked about their experience making Pa Negre and what the success of the film had meant for their careers.  All participants were invited to ask questions or raise discussion points and our cineforum lasted for over an hour.
Sheffield leading the way in Catalan
Our cultural activities are important in two different ways. These co-curricular events make the language and culture come alive for our students: to see the language in action and to experience that you understand what is going on is a thrill for every language student. Also, who does not want to talk to leading actors?
There is a second benefit. Thanks to our active staff and students, the University of Sheffield has become a leading university in promoting Catalan Studies in the UK: we invited students from 13 other universities across the country to join us. Building towards a national community in Catalan Studies is good for our students – it is great fun to get to know and compare notes with peers at other institutions – but it is also important for the subject too. We can achieve more together as a network of students, academics and artists in Catalan language and culture. 
We have started to work on new activities for 2022 so watch out for our new events!
A world-class university – a unique student experience
Sheffield is a research university with a global reputation for excellence. We're a member of the Russell Group: one of the 24 leading UK universities for research and teaching.