Chemical and Biological Engineering is a thriving department within the University's Faculty of Engineering, which is rated top nationally for the quality of its research environment (REF 2021).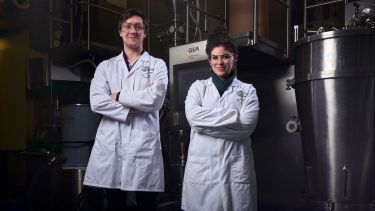 On
We're a major contributor to tackling the key challenges of this century - climate change, energy poverty, affordable medicines, sustainable agriculture and water use, safety and green manufacturing. Our rich environment for learning prepares our students to be 21st century scientists and engineers, with disciplines spanning:
particle science and technology/nanotechnology
new energy technologies
the environment and applications of post-genomics bioscience for biotechnology
bioprocessing applications.
---
In 2021 we achieved: 
£8 million new research grant income 
425 undergraduates students
172 postgraduate taught students
164 phd students 
24 unique researcher funders 
181 publications 
47 grants
Our innovative, PLA driven undergraduate curriculum has been rolled out in 2020/21, the curriculum has received national attention.
---
We've key relationships with major international companies invovled with food, fuels, medicines, plastics, energy and high-technology industries.  Some of these include:
Siemens
Petronas
Pfizer
Nestle
Lonza
Astrazeneca
Syngenta
Unilever
We have a dedicated Industrial Advisory Board which meets annually and discusses issues relating to the curriculum, employment and research collaborations. The industrial members are extremely supportive of the department and its students. They are enthusiastic about the high quality of graduates that we produce, and particularly interested in the industrial projects carried out by students on our courses.
---
We believe that diversity in all its forms delivers greater impact in our research and teaching and enhances the experience of our students.
Our main focus is to increase the proportion of female engineers. We work incredibly hard for Athena Swan status and have achieved silver and we continue to work towards ensuring female engineers have the maximum opportunity to advance in their career.
---
Our facilites are world-class. The Diamond Building hosts some of our cutting edge laboratories with industrial scale equipment including the Analytics Lab, Thermodynamics Lab and the Pilot Plant.
The Pilot Plant is the cornerstone to educate our students and it features a continuous powder processing plant – the first of its kind in any UK University. 
---
We're committed to promoting and practicing environmentally-friendly working and sustainability. The department currently holds two Green Impact gold awards, and a bonus gold award for its laboratories.
A world top-100 university
We're a world top-100 university renowned for the excellence, impact and distinctiveness of our research-led learning and teaching.