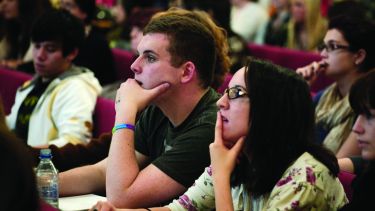 We host an exciting and engaging research seminar programme throughout the year.  Research seminars provide the opportunity to hear about cutting edge research from across a wide range of topics and our seminars are open to all.
---
Professor Raffaella Ocone (Heriot Watt University) 
The Rheology of Granular Materials: A Multiscale Approach
20 January 2021 11.30pm - 12.30pm 
Biography  

OBE FRSE FREng is Professor of Chemical Engineering at Heriot-Watt University and a Fellow of the Royal Academy of Engineering. In 2006 she was awarded the title Cavaliere of the Order of Merit of the Italian Republic and in the 2019 New Year Honours she was appointed OBE. Further information.  

Abstract 

Granular materials exhibit a broad range of intricate dynamic behaviours. In the chemical and process industries, where those materials are widely handled and produced, studying their hydrodynamics is of critical importance. Indeed, understanding how internal (e.g., particles size and shape) and external (e.g., applied stresses, moisture content) physical properties impact on the flow behaviour of solid particles helps industrial practitioners handle and produce particulates in an efficient and less costly way. 

The talk will explore the challenges that the dynamic behaviour of dry and wet granular materials poses and discusses the most recent experimental and modelling studies undertaken at Heriot-Watt University. Those studies aim at elucidating the rheological behaviour of aerated granular materials by employing a commercial instrument, the Freeman FT4 Powder Rheometer, which is modified to generate Couette flow. We call the modified instrument the "Aerated Bed Virtual Couette Rheometer" (AB-VCR) and its development is presented. The AB-VCR is employed in both non-aerated and aerated modes to determine the rheology of monodispersed spherical glass beads with and without moisture. Systematic measurements of the stresses which develop within the granular medium are presented and a rheological law is proposed. The validity of such a constitutive law is tested and discussed.
---
Professor Mike Bradley (University of Greenwich)
Powder Behaviour Critical Points in High Value Manufacturing – The Good, the Bad and the Questionable?
12 February 2021 12.00pm - 1.00pm 
Biography

Mike Bradley is Professor in Particle and Bulk Technology, Director of the Wolfson Centre for Bulk Solids Handling Technology and Head of the Greenwich Manufacturing Group at the University of Greenwich. He was awarded both his honours degree and PHD from Thames Polytechnic (now the University of Greenwich) and, as manager/director, provides technical leadership in all aspects of bulk solids handling. His particular areas of interest lie in pneumatic conveying, design of hoppers and silos, dust control, plant integration and maintenance of product quality. He is Chair of Solids Handling and Processing Association (SHAPA), and a member of Materials Handling Engineers Association (MHEA) and of the Institution of Mechanical Engineers Bulk Materials Handling Committee (IMechE).  He was awarded a professorship in 2006 and the directorship in 2008.

Abstract

Powders lie at the heart of many Additive and other High Value Manufacturing processes, and the behaviour of these powders is critical to quality, productivity and feasibility of manufacturing.  Much research has been done into the behaviour of powders historically, and yet the communities in AM and HVM appear to be working as if in a vacuum, trying to re-invent the wheel, aided and abetted by equipment manufacturers who have a vested interest in putting out new, patented "solutions" to problems, many of which are based on guesswork and questionable science.  Notwithstanding the lack of application of existing knowledge, there are many areas of powder behaviour which have not been sufficiently well researched, yet are known to create traps for the unwary – or even the cautious.  This presentation will aim to give a short tour of the key powder behaviour issues that impinge on HVM operations, the opportunities for HVM to better exploit known powder science, and the burning questions that we need research to address.
---
Continuous Improvement Leader from Dow Chemical Company
Friday 12 March 2021 12.00pm -1.00pm
Biography 

Chaitanya Khare is the Continuous Improvement Leader in Dow's Ethylene Envelope. Chaitanya joined Dow in March 2007 and has helped make sustainable advancements for the reporting in the Capital Projects area. During Chaitanya's time at Dow he has been instrumental in the widespread adoption of Focus EMI at Dow and has led key Focus EMI implementation projects. Chaitanya developed and led the Hydrocarbons Focus EMI project team for Manufacturing Analytics and actively leveraged his learnings to other projects. 

Abstract 

In this presentation we will discuss some experiences and challenges in establishing an manufacturing intelligence (MI) platform at Dow chemical company.
 

We will go over the main theme of how MI helps a manufacturing facility, and actually how to build MI. We will also discuss about a actual example during the presentation that we have implemented MI in the plant.
 

• AIChE paper for Ethylene producer's conference, 2018: "Enterprise Manufacturing Intelligence to bring data and knowledge together for real time decision making", Chaitanya Khare, Mary Beth Seasholtz, Richard Rolke and Jim Petrusich.

• AIChE publication in the CEP magazine on, "Big Data: Getting started on the journey". March 2016
---
Professor Peter Styring 
Addressing the challenge of decarbonisation in Sheffield
23 March 6.00pm - 8.00pm 



This panel discussion organised by IET, IMechE, IStructE, IChemE, SMEA and ICE, will explore the zero carbon agenda in the context of the Sheffield City Region. The event will be chaired by Peter Kennan who is a Private Sector Board Member of the Sheffield City Region Local Enterprise Partnership, Chair of the Sheffield Chamber of Commerce and Industry Transport Forum and Board Member of Transport for the North.




Professor Peter Styring of the Department of Chemical and Biological Engineering at the University of Sheffield is an expert in Carbon Capture & Utilisation (CDU) with increasing expertise in CDU policy. He is also part of the newly launched Interdisciplinary Centre for Circular Chemical Economy (NIC3E) that will lead a new government push to revolutionise the way resources are managed in the UK's £32 billion chemical industry to build a greener, more efficient economy.'
---
Professor Basu Saha (South Bank University)
Novel aspects of greener and sustainable processes
Friday 16 April 12.00 - 13.00 
Biography 

Basu Saha received his Bachelor's and Master's degrees in Chemical Engineering (both 1 st Class Honours) followed by a PhD in Chemical Engineering in the area of heterogeneous reactions catalysed by novel ion exchange materials. Previously (1997-2010), he worked in the Chemical Engineering department of Loughborough University (as a Post-doctoral Research Associate/Lecturer/Senior Lecturer/Reader in Chemical Engineering). He was awarded a prestigious Royal Academy of Engineering Industrial Secondment with Syngenta Ltd in  Huddersfield, to study the kinetics and chemical reaction engineering aspects for the industrially practised catalytic processes. He has been working at London South Bank University (LSBU) after being appointed as a Professor of Chemical and Process Engineering in 2010. He is currently a Visiting Professor of Chemical and Process Engineering at LSBU and an Adjunct Professor at UCSI University, Malaysia. He was Head of Centre for Energy and the Environment Research in the School of Engineering at LSBU (2017 – 2019), Head of Energy and the Environment Research Group in the School of Engineering (2015 - 2017), Founding Director of Centre for Green Process Engineering (2012 - 2014) and Research Lead of Department of Applied Sciences at LSBU (2011 - 2014). He has held Visiting Professorships in the University of Barcelona, Spain; Saga University, Japan and University of Burgos, Spain. He is a Chartered Engineer (CEng), a Fellow of Institution of Chemical Engineers (FIChemE), a Fellow of the Royal Society of Chemistry (FRSC) and a Senior Fellow of Higher Education Academy (SFHEA). His research focuses on innovative greener and sustainable processes for environmental pollution control and renewable and sustainable energy solutions for which he has established an international reputation. He is an Editorial Board Member of Green Processing and Synthesis Journal; Energies and Reactions Journals; Theoretical Foundation of Chemical Engineering Journal; Advisory Board Member of Reaction Chemistry and Engineering Journal (RSC Journal) and an Associate Editor of Sustainable Chemical Process Design Journal (specialty section of Frontiers in Sustainability). He has published about 200 research papers (including refereed journal and conference papers), 7 book chapters, 1 authored/edited book and is co inventor of 7 patents. He has received many national and international awards (e.g. from The Royal Society, The Royal Academy of Engineering, IChemE, NRI Welfare Society etc.). He received a prestigious "Jewel of India" award by the NRI Welfare Society of India in 2020 in recognition of outstanding services and scholarly achievements in Chemical Engineering.

Abstract 

Green process engineering is an approach to make a hazardous and wasteful process more sustainable. The implementation of a wide range of innovative and effective greener and sustainable processes over the years has led to more environmentally friendly approaches that have resulted in greater pollution prevention via waste reduction and efficiency maximisation. More attention has been focused on the design of clean processes that lead to considerable reduction in capital investment and energy requirements as well as efficient utilisation of raw materials, while complying with the environmental regulations. The finite resources of fossil feedstock together with the increase in anthropogenic emissions of carbon dioxide (CO 2 )
are a major concern of global importance. The use of CO 2 as a carbon source and valorisation of biomas offer the possibility to contribute to sustainable carbon cycles for energy and chemical supply chains.

This presentation will highlight some of the key scientific challenges associated with these concepts and demonstrate how catalysis research at the interface of molecular and engineering sciences provides key contributions to this area. The general aspects will be illustrated with current research from our laboratory concerning the process intensification via greening of alkene epoxidation; development, application and mechanistic understanding of catalytic systems for conversion of CO 2 to high value chemicals; sustainable biofuel production and conversion of lignocellulosic biomass to bio-oil via pyrolysis process.
---
Dr.-Ing. Yashodhan Pramod Gokhale
Challenges and Technologies in EV Battery
Manufacturing
Friday 14 May 12.00 - 13.00 
Abstract 

Daily passenger vehicles in cities have negative burden on our finite world. Transport sector has been one of the main contributors to air pollution and energy depletion. Providing alternative means of transport is a promising strategy perceived by motor manufacturers and researchers. Electrode materials with high crystallinity, right crystal chemistry and size confined to few nano-meters are obtained by optimized solution combustion synthesis and their electrochemical performance are evaluated in Li-ion batteries. The Combustion process is attractive for the bulk preparation of nano materials and efforts are underway to optimize for bulk production of high-performance electrode materials.

Li–oxygen (Li–O2) batteries based on lithium metal anode possess a much higher theoretical energy density in comparison to the present lithium-ion batteries. Nevertheless, some severe issues, such as the formation of Li dendrites on the metallic anode, and oxygen/moisture erosion from the oxygen cathode, critically hinder their practical applications.

The bottleneck that limits the development of lithium metal anode is the growth of Li dendrites during the charge/discharge cycles, giving rise to the low Coulombic efficiency and potential safety hazards. Additionally, Lithium metal batteries with various cathodes exhibit different properties and confront related challenges.

Besides innovations in cell chemistries and package design the alteration from low volume manufacture to mass production is one of the grand challenges in bringing high-power lithium-ion batteries into viable markets. Design for manufacturability, production processes an equipment as well as factory automation play a vital role in achieving this goal. Different cell chemistries basically define the essence of a battery and lay the foundations for its suitability for a specific application – from consumer to industrial, from stationary to mobile, optimized for high power or high energy. We present the recent advances in the general chemistry and engineering strategies to prolong the life of lithium metal anode. Then the corresponding countermeasures for enhancing the performance of Li–O2 batteries are introduced. Future development of batteries beyond lithium-ion chemistry is also concluded. Despite this important electrochemical background, however, it is the packaging that greatly influences important performance parameters like lifetime, cyclability, safety and most of all cost. Electric vehicles system is on the verge of experiencing massive growth; however, the system entails a variety of substantial challenges.

Biography

Electric Buses and Cars : Liquid cooled Lithium-ion battery packs and BMS deployment in India.(200Mwh +)
Fuel Cell Bus Project, Tata Motors Research Center
Impact champion Award, EPSRC Research Associate for Silica Nano process, Uni. of Strathclyde,Glasgow
Fraunhofer research, Germany - Scaled up and optimized the process for high-capacity lithium-ion battery materials for German Automotive players.
Brian Scarlett award for Outstanding Contribution by Royal Society of Chemistry (RSC) for Titanium dioxide & Silver nanoparticles research
DFG & Marie Curie Actions Scholarship for innovation research
---
Dr Rupert Myers (Imperial College London) 
Date TBC
Biography

Rupert J. Myers is a Lecturer in Sustainable Materials Engineering and leader of the Myers Group at Imperial College London.

He has worked across various engineering/science disciplines and locations, from Australia (Uni. of Melbourne), to the United States (UC Berkeley, Yale, MIT), and to Europe (EMPA, Uni. of Edinburgh, ICL).

Rupert currently champions his mission, to reduce environmental burdens through sustainable engineering, by focussing his research and teaching on materials that are virtually unmatched in importance to society, such as cement and metals, and the services/products that they provide, e.g., shelter/buildings, infrastructure, and cities.

He leads inter(/trans)disciplinary projects in this space, which notably couple industrial ecology and materials engineering/chemistry, in collaboration with various domestic and international academic and non-academic partners.

Rupert is a member of the International Society of Industrial Ecology.

Abstract

Date TBC
---
Professor Paul Topham (Aston University) 
Nanolithography using microphase separation of high chi, low N polymers- how low can
we go?
Date TBC
Biography

Professor Paul Topham is a Full Professor of Polymer Science, Head of Chemical Engineering and Applied Chemistry (CEAC) and Director of the Aston Institute of Materials Research (AIMR) at Aston University and a Visiting Professor of the South China University of Technology. He did a PhD with Tony Ryan at the University of Sheffield (2002 – 2006) and then a postdoc with Steve Armes from 2006 – 2008, before taking up a lectureship at Aston. In 2019, he was awarded the prestigious position of representing Hydrogen in the Periodic Table of Younger Chemists for the celebration of IUPAC100 and IYPT (https://iupac.org/100/pt-of-chemist/), and was also awarded the MacroGroup UK Young Researchers Medal in 2014.

Abstract

The remarkable properties and tunability of block copolymers (BCPs) offer themselves to a wide
range of applications, such as nanoporous membranes for drug delivery, nanolithography and
microelectronics. These latter industries have driven the need for smaller feature sizes by feasible
synthesis, rendering BCPs a plausible candidate. Here, we will discuss a novel approach to
microphase separation of polymers to push the lower limit of domain size resolution through the use of short poly(acrylic acid) homopolymers equipped with a short fluorinated tail, posing as an
antagonist 'block'. Exploiting the high driving force for demixing and the well-defined 'block' sizes,
we are able to control the nanostructure in terms of domain size (down to 3.4 nm full-pitch) and
morphology. This work demonstrates the simple and highly controlled synthesis of polymers to push the boundaries of the smallest achievable domain sizes obtained from polymer self-assembly. The question that remains to be answers is: how low in terms of domain size (i.e. how high in resolution) can we go with this technology?
---
Professor Pete Halley  University of Queensland, Australia
Sustainable biopolymers for a circular plastics economy: translational research from bench to start-up company
Date TBC
Biography

Peter Halley is a professor in chemical engineering at the University of Queensland (UQ). From 2014 to 2019 he was also the head of school of UQ chemical engineering. Peter works in polymer engineering and processing research at the translational research interface between university and industry. Specifically his research involves rheology, processing and product design of bio-based materials, polymers and nanocomposite materials for agrifood, biomedical and high-value manufacturing sectors. He has worked in industry (SRI international, Sola Optical, Moldflow), has worked in three cooperative research centres (CRCs in polymers, food packaging, sugar innovation), has acquired and managed continuous government and industry research projects since 1994, and was heavily involved in the spinoff of Plantic Technologies (starch polymers). He has affiliate positions in the Australian institute for bioengineering and nanotechnology (AIBN) and the Queensland advanced materials processing and manufacturing (AMPAM) centre at UQ. Peter is a fellow of IChemE and RACI, and is on several editorial boards of polymer journals.

Abstract 

This talk will highlight the need for developing a sustainable plastics economy to reduce waste but maintain the benefits to society of plastic materials and products. I will focus on the development of biopolymers (based on starch, PHA, lignin, and other materials) in our labs which extend over a 25 year journey from fundamental research through to scale-up and start-up company development. I will highlight the development of starch materials from niche applications to high value applications. The importance of linked PhD projects with applied research projects will be shown.
---
Contact 
For more information or to be part of our seminar series please contact:
Events at the University
Browse upcoming public lectures, exhibitions, family events, concerts, shows and festivals across the University.