Dr Amit Bhave: The World Avatar: Enabling cross-sector data interoperability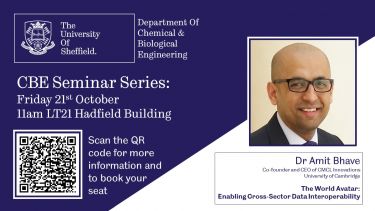 Event details
Wednesday 21 September 2022
---
Description
Abstract
Problems such as achieving net zero in energy, materials and sustainable smart cities transformations are intrinsically dynamic, multidomain and need to be addressed at multiple levels of granularity and scale. CMCL is developing The World Avatar (TWA), a dynamic Knowledge Graph approach that accounts for the aforementioned requirements as well as the context and meaning of the heterogenous data across domains.
The digital ecosystem enables cross-sector interoperability and covers three selected use cases: i) a combination of chemical reasoning with spatial thinking for formulation of new materials, for example, metal organic polyhedra; ii) chemistry laboratory automation; and iii) a cross-sector climate resilience digital twin for some of the critical industrial infrastructure assets in the East of England.
Biography
Dr Bhave is the CEO and co-founder of CMCL Innovations, a digital engineering company that offers products and technical services to the chemical, materials, automotive, and energy industries. For over a decade he has been responsible for business development and for establishing research partnerships with industry and academia worldwide.
He is also an affiliated research fellow with the CoMo Group at the Department of Chemical Engineering and Biotechnology at The University of Cambridge. His research interests include digital engineering, smart infrastructure, technology commercialisation, negative emissions technologies, carbon abatement, low-emission energy conversion and nanomaterials. Dr Bhave is currently an industrial supervisor for two PhD studentships at the department in the field of artificial intelligence and industrial decarbonisation.
Dr Bhave joined The University of Cambridge as a PhD student at Hughes Hall, where he went on to be a research fellow and now an associate. As a CTES fellow, he completed the Technology Enterprise and Commercialisation programme led by the London Business School. A chemical engineer by profession; Dr Bhave graduated with a PhD degree from the University of Cambridge and gained his master's degree from the Indian Institute of Technology (IIT) Bombay and a bachelor's degree from the University of Pune, India.
Events at the University
Browse upcoming public lectures, exhibitions, family events, concerts, shows and festivals across the University.