The Thermodynamics and Mechanics Laboratory
The Thermodynamics and Mechanics Laboratory equips you with the practical understanding and experience involved with the modern engineering concept of energy efficiency.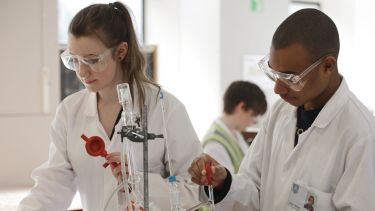 Heat transfer is examined in compressors and heat exchangers, and through special laboratory equipment such as the boiling and radiation rigs. Students are able to compare theory with experimental results and gain a better understanding of energy transfer by using apparatus that are modelled on actual industrial equipment.
The laboratory is also home to a number of dynamics experiments where the movement of mechanical systems and structures is examined. Gaining an understanding of the issues of force, acceleration, friction and vibration and how these play an important part in the design and manufacture of mechanical structures such as supporting beams, aeroplane wings and turbine blades.
What equipment is in the lab?
Hilton Heat Exchanger Rig
Band Brake & Gearbox Apparatus
Slider Crank Apparatus
Gunt Condensing rig
Gunt Boiling Rig
Acoustics
Vibrating beam
Tap testing of steam turbine blades
A world-class university – a unique student experience
Sheffield is a research university with a global reputation for excellence. We're a member of the Russell Group: one of the 24 leading UK universities for research and teaching.