Brothers celebrate same-day graduation as first-class chemical engineers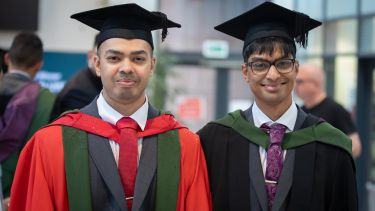 "There's a lot of pride in what we've managed to accomplish," Nabhan said a few days before taking the stage at his graduation on Friday 22 July. His younger brother Mahdi was also wearing his gown and mortarboard, with both brothers graduating together on the same day - a point of pride for the siblings and their parents alike.
With Nabhan having passed his Doctor of Philosophy PhD with a thesis title of Modelling Spray Fluidised Bed Granulation, and Mahdi having achieved a first-class MEng Chemical Engineering degree, the two are now set to continue their accomplishments.
Mahdi is to begin a PhD in September at The University of Sheffield, while Nabhan is embarking on his career as a chemical engineer.
The brothers are first generation, with their parents having emigrated from Bangladesh in the 1970s. They are also the first in their family to go to university - though this wasn't always a certainty for them.
Both Mahdi and Nabhan faced a language barrier as young children, having been brought up speaking Bengali and subsequently struggling with English. They both took extra lessons.
Mahdi described his younger self as the "class clown", which he said was a result of bad influences around him and a lack of belief in his abilities from teachers. He initially ran into problems with his grades - although later surpassed expectations during his A Levels.
"I didn't actually expect to go to university myself," he said. "I've always been more conscious about my intelligence; I've had a lot more impostor syndrome and I never performed that well in school until sixth form. 
"I was scared that I wouldn't even get to university in the first place, because I didn't think I was smart enough, but here I am about to start a PhD."
The change in Mahdi's grades came when he was moved into higher sets at school, which his parents pushed for and which he said was a nicer environment. This meant he was surrounded by "the best people possible, friends who were overachievers", which became motivation for him.
That support network of friends and family was key for the brothers, both in school and at university.
"One of the best things about Sheffield and something I think I'll always love about Sheffield are the friends I've made; they're going to be friends for life," Nabhan said.
One of Mahdi's childhood friends from school is also studying a chemical engineering PhD at Sheffield: "It's amazing that I ended up at the same uni as him, doing the same degree, and now also a PhD! I have the same feeling with my brother, too."
He added that he really looks up to both his brother and his childhood friend.
It wasn't just the degree itself that attracted the brothers to Sheffield, however. Both Nabhan and Mahdi described the town they grew up in as one with little diversity, while few people there shared their cultural or economic background.
"I know how hard my parents had to work to give us a good upbringing, and it's something I'll appreciate forever," Mahdi said.
"When I moved to Sheffield, I suddenly got this whole new perspective on what the world meant and what it meant to communicate with people and interact with people," Nabhan added.
"The University of Sheffield has all sorts of diversity...you get to meet all sorts of people."
Nabhan visited one of The University of Sheffield's pre-applicant open days, which left him with the impression of "wow, this place just seems right".
The way that the university is very much a part of the Sheffield community, as opposed to being sectioned off away from the city, helped seal the deal for the boys.
Indeed, after graduating Mahdi is coming almost straight back to The University of Sheffield to embark on his PhD. Nabhan, meanwhile, has just started a senior process engineering role with Keurig Dr. Pepper - "and yes, it probably is the same Dr. Pepper that you know", he joked.
That role is to take him to Ireland for a year, and then from Ireland he'll be going to Texas in the United States, where he'll be permanently based.
His PhD has helped prepare him for this role, with the postgraduate degree allowing him to get experience with industrial processes. "I got a good taste of what it means to be an engineer within the industry."
Now it's Mahdi's turn to again follow in his brother's footsteps with his PhD on the horizon - something he is very much looking forward to, in particular working with the Head of the Department for Chemical and Biological Engineering, Joan Cordiner.
Mahdi said she has "really been an inspiration for me" and is "one of the best people I've ever met" due to her belief in him - which he said has improved his confidence in himself as he continues forward with his education.
A world-class university – a unique student experience
Sheffield is a research university with a global reputation for excellence. We're a member of the Russell Group: one of the 24 leading UK universities for research and teaching.