CBE research commended at international industry awards ceremony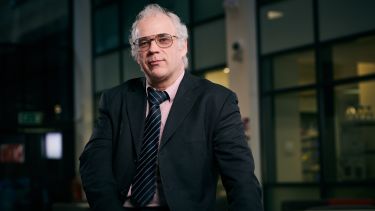 Prof Will Zimmerman (pictured) and Pratik Desai's project 'Anaerobic Digestion Cycle - Sustainably Intensified Anaerobic Digestion with Novel Biogas Sweetening' was highly commended in the best project of the year category at the annual AD & Biogas Industry Awards.
The ceremony was jointly organised by the UK Anaerobic Digestion & Bioresources Association (ADBA) and the World Biogas Association (WBA), and was held at the end of the first day of UK AD & World Biogas Expo 2018, the world's largest tradeshow dedicated solely to AD and biogas.
The project which achieved 2nd out of 200 was funded by the joint InnovateUK/EPSRC programme "Energy Catalyst",  it builds on earlier work (Al-Mashhadani MKH, Wilkinson SJ, Zimmerman WB), Carbon dioxide rich microbubble acceleration of biogas J production in anaerobic digestion. Chemical Engineering Science 156 (2016) 24–35. ) which achieved more than double the biogas production rate than without microbuble injection. 
Project outline; 
Perlemax Ltd
Desai-Zimmerman Anaerobic Digestion Cycle - Sustainably Intensified Anaerobic Digestion with Novel Biagas Sweetening.
Desai-Zimmerman Anaerobic Digestion (DZ AD) Cycle has three novel innovations intensifying AD in a sustainable manner by i. increasing biogas production rate multiple fold, ii. enhancing methane by biogas sweetening, iii. fertiliser production-ammonium carbamate/carbonate salts. The project has been designed to work as a 2m3 batch process or used with a much larger scale system - attached as aside arm for a retrofit with a throughput of 24m3/h. This is a combination of two PoC awards - fully or partly funded or assisted by Viridor ( Marcus DuPree Thomas) for Desai and Zimmerman and lnnovateUK funded pilot scale AD intensification plant as an EnergyCatalyst Award.