CBE Research Highlight: Low-carbon cement and prototype bioreactor technology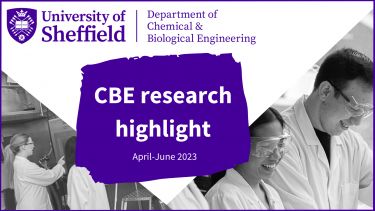 In this latest round-up of our research highlights, we take a look at research from Dr Brant Walkley into low-carbon cements as well as how a hallway conversation between Dr Jordan MacInnes and Dr Esther Karunakaran led to the patenting of general bioreactor technology.
 
Innovative bioreactor technology
Jordan MacInnes, Esther Karunakaran
A hallway conversation has developed into a general bioreactor technology that is now being patented in preparation for commercial application. Esther Karunakaran, a molecular microbiologist by training, identified general problems when using living cells to perform chemical reactions as enabled using the rotating spiral technology developed by Jordan MacInnes, a mechanical engineer by training. The collaboration led to a project to produce a prototype bioreactor, funded by the National Biofilm Innovation Centre.

The challenge during bioreaction is contacting the various fluids required with a large population of cells to achieve significant chemical production rates. The cells must be supplied with a liquid stream carrying nutrients to keep the cells' health and other chemicals supplying the required reaction that the cells will perform. But generally, cells also may require input from a gas such as oxygen which must be supplied and may produce other gas species such as carbon dioxide that must be removed.
Using a rotating spiral channel allows all of the streams to be well-controlled during passage along a microfluidic channel. Cells can be placed in a bed all along one wall of the channel with liquid flowing along the channel. Supplied gas is introduced in the channel without disturbing the bed of cells. It may also be possible to introduce a second liquid to extract inhibitors.

Esther and Jordan are currently exploring options for market partners and taking steps to form a 'spin-out' company.
Found out more about Dr Esther Karunakaran's and Dr Jordan MacInnes' research.
---
Mechanisms of dispersion of metakaolin particles via adsorption of sodium naphthalene sulfonate formaldehyde polymer
Maryam H. Derkani, Nathan J. Bartlett, Gaone Koma, Laura A. Carter, Daniel A. Geddes, John L. Provis, Brant Walkley
Cement is the 'glue' in concrete, and its production currently generates 8% of global CO2 emissions.
Low-CO₂ 'alkali-activated' cements based on calcined clays have emerged, and can reduced associated CO₂ emissions by more than 80% compared to traditional Portland cement. These cements require superplasticising dispersants to improve their flow characteristics, particularly for use in ultra-high performance concrete, due to the very low water content required to achieve low porosity and hence strength.

In this work, the researchers revealed the influence of variations in aqueous chemistry on the surface interactions and adsorption of a commercial naphthalene-based superplasticiser on the surface of metakaolin particles (a common calcined clay) in aqueous solutions relevant to both alkali-activated and blended Portland cements.

Through this, they determined the optimum performance and dosage of cement superplasticisers in non-conventional cementing binder systems, to improve rheological properties of new and more sustainable cements.

The CBE Research Highlight series is published on our LinkedIn and Twitter. This includes regular snippets of the innovative, world-class research happening in our department, offering you the chance to read more into it.
Flagship institutes
The University's four flagship institutes bring together our key strengths to tackle global issues, turning interdisciplinary and translational research into real-world solutions.