CBE students pioneer new technology in Ethiopia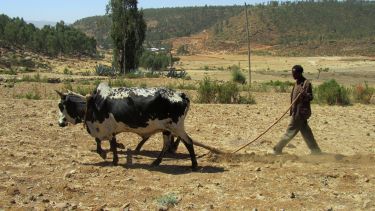 The intent of the trip is to create a small business for the manufacture of soil moisture sensors to help the local farming community. 
Professor Gregory Beaucage, Max Yan, Patrick Nsengimana, Mary Wong, and Dounia Bakira are currently in Ethiopia to transfer research technology developed at Sheffield to students at Addis Ababa University.
Students are also interacting with Prof. Shimelis Admassie who is developing batteries, sensors, and super capacitors - which parallels research conducted here at Sheffield. The hope is to further enhance possible future collaborations with the team and local community in Addis Ababa.  Students also met with Addis Ababa University Chemical Engineering students and trained them in the manufacture of the sensors and several students were identified as candidates for the company.
There is a dire need to monitor irrigation which accounts for about 70% of the cost in farming.

Professor Gregory Beaucage
The Sheffield team were also able to visit a test site about 50 km from the city where field testing of the moisture sensor was conducted. They were able to interact with local farmers and get feedback on the device and the possible value to their farming work.
Professor Gregory Beaucage, visiting Professor and Fulbright Scholar with CBE and University of Sheffield Professor of Materials and Chemical Engineering, University of Cincinnati said;
"Currently farmers 'fly blind' while supplying water to (land or crops) help growth, this leads to waste of water and damage to crops due to root rot or too little moisture. The feedback from farmers was the most encouraging."
"The farmers indicated that they would be willing to use such equipment and similar effective devices to help with their farming. The Ethiopian federal government now has a focus on technology to improve agricultural productivity - an organization called Blue Moon is organizing new businesses of this type. So we hope that the soil moisture sensor can become a partner in these efforts."
Flagship institutes
The University's four flagship institutes bring together our key strengths to tackle global issues, turning interdisciplinary and translational research into real-world solutions.