Department scoops industry award for research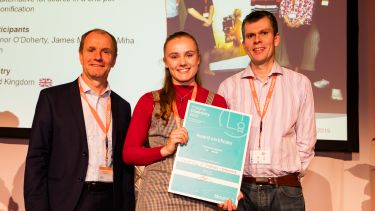 The award was given at the Nouryon Imagine Chemistry event for 'chemical research support by Nouryon for its insect-derived surfactants'.
Dr McGregor and Eleanor won the research award with Entomics Biosystems Ltd. They're working together on how to produce surfactants from organic waste and they are doing this using the larvae of the black soldier fly.   At Entomics' facility researchers have trays filled with organic waste which the larvae are currently feeding on. The larvae are eating the waste and then transforming that in their body which in turn are used in Sheffield to produce surfactants:
---
"The larvae selectively turn organic waste into a valuable feedstock which we can use to replace resources such as palm oil and fossil reserves.

Dr James McGregor 
---

The project has been funded by the Grantham Centre for Sustainable Futures and Dr McGregor has also established a future collaborative partnership with Nouryon.
Nouryon are a global company looking for ways to create a more sustainable future through chemistry. Industries worldwide rely on their essential chemistry in the manufacture of everyday products.  Their 'Imagine Chemistry' is a collaborative innovation programme working with startups, scale-ups, universities, and other partners in various ways to push the frontiers of sustainable innovation.  Their unique product portfolio includes cellulosics, salt, organic peroxides, chlor-alkali, bleaching chemicals, expandable microspheres, and surfactants. 
Flagship institutes
The University's four flagship institutes bring together our key strengths to tackle global issues, turning interdisciplinary and translational research into real-world solutions.