Research project scoops top industry award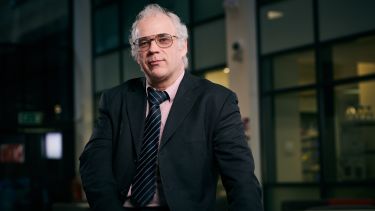 Professor Will Zimmerman along with alumnus Dr Pratik Desai, were honoured with Best R&D Innovation  (Sponsored by Cooper Östlund Ltd) for In situ Ammonia Removal in the Desai-Zimmerman Anaerobic Digester.
The project is a partnership with spinout company Perlemax and Sheffield Waste Management provider Viridor.
Project team: Dr. Pratik Desai – Perlemax Ltd(Lead) and Mr.Marcus DuPree Thomas- Viridor;  Academic: Professor Will Zimmerman - University of Sheffield.
The crème de la crème in the anaerobic digestion (AD) and biogas industry gathered at the AD & Biogas Industry Awards Ceremony 2019 in Birmingham in July to celebrate those organisations and individuals who demonstrated outstanding commitment to innovation and excellence in support of this game-changing sector over the past year.
Jointly organised by the UK Anaerobic Digestion & Bioresources Association (ADBA) and the World Biogas Association (WBA), the 2019 Awards competition recognised companies and people from around the world across 12 categories – ranging from Clever Use of Outputs to Best R&D Innovation, Most Circular City, AD Hero of the Year and International Knowledge & Collaboration.
Over 400 guests attended the glittering black-tie gala dinner hosted by BBC Reporter and Eco-adventurer Andy Pag, who revealed the Winners and Highly-Commended entries.
Project description 
Ammonia is a major environmental liability that needs to be remediated from centrate to meet consent, which is an expensive process (approximately £10-£20/m3). The process determines cost, environmental liability, processing time, and range of ammonia that can be treated. The method developed by Desai (stripping), with original theoretical invention by Zimmerman (modelled microbubble distillation) was transformed into a novel unit operation by Desai for ammonia stripping. This can be used to remove the ammonia from centrate (@£1-£3/m3), has no known limitations on ammonia concentration, can be used in situ in an AD plant, especially as Desai-Zimmerman AD Cycle (Highly Commended, ADBA Industry Awards for Best Project, 2018), which significantly increases the capital efficiencies and removes problems posed by ammonia inhibition.
The method is a paradigm shift to the existing technology. Desai and Thomas have worked on their project together to develop this technology to work onsite at the pilot scale. The underpinning theory and PoC was done by Desai and Zimmerman, with AD process Intensification work being underpinned by the Al Mashhadani et al , 2016 paper. Further improvements and novel understanding resulting  in upto 750% increase in biogas rate of production and was made possible due to the original IUK Energy Catalyst Round 4 Award – Perlemax and TUoS with Viridor as an enduser . The main advantage is that the CAPEX is significantly reduced, creating a possibility for onsite farm use. Support for the innovation includes InnovateUK and EPSRC grants. The team would also like to thank the members of the DZIR and R&IS.
A world-class university – a unique student experience
Sheffield is a research university with a global reputation for excellence. We're a member of the Russell Group: one of the 24 leading UK universities for research and teaching.