Sheffield students win gold at international iGEM competition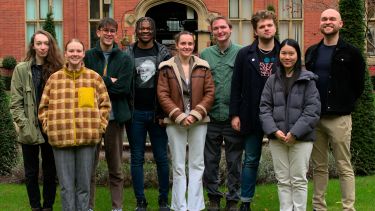 Students from across The University of Sheffield have been successful in an international competition to design synthetic biology solutions to real-world problems.
The team, which included two students from The Department of Chemical and Biological Engineering, won gold for project excellence, and were nominated for best hardware for their open-source bioreactor design.
This was created for the iGEM competition, where cross-faculty teams of students from different universities create a project idea and develop it over the course of the summer with the support of experts and community stakeholders, collecting data as part of the process.
Students create a team wiki containing detailed information on the project including raw results and data, and a promotional video aimed at explaining what the problem they're looking to solve is and how.
The University of Sheffield's team first won best promotional video at a meet up in Münster, Germany to update progress in the competition before being awarded the gold for project excellence at the Grand Jamboree held at the end of the iGEM process.
The Grand Jamboree - which took place in Paris - is an international conference that brings teams together and gives them a chance to present their work to the rest of the world.
As part of this, students give a 15 minute presentation in front of judges and an audience of other teams and a poster and other interactive props at their team booth.
The University of Sheffield team developed rEvolver as part of their project - a kit for continuous, in vivo directed evolution, a way of repurposing naturally-occurring proteins for a wide range of applications.
The kit is designed to make directed evolution a more accessible technology, which is currently impractical for smaller labs due to the labour and time-intensive nature of the approach.
The team was comprised of 13 undergraduate students from the School of Biosciences (Alex Connolly, Brooks Rady, Isaac White, Connie Treanor, Taylor Wellfare Read, Sanela Ramic, Isobel Marshall-Andrews and Dylan Lewis), the School of Mathematics and Statistics (Arjun Niranjan), the Department of Chemical and Biological Engineering (Chalisa Pusitdhikul and Kesler Isoko) and the Department of Bioengineering (Rikki Doonan and Marcus Young).
A world-class university – a unique student experience
Sheffield is a research university with a global reputation for excellence. We're a member of the Russell Group: one of the 24 leading UK universities for research and teaching.