Students discover the workings of a large oil refinery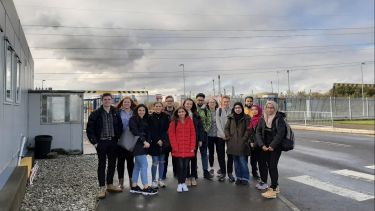 Students gained an insight into the oil and gas industry and witnessed how large-scale chemical plants operate. The event was organised by Inclusion Officer Abbie Burnley for the student ChemSoc Society. This event was part of the societies aim to provide extra opportunities to students to complement the department's curriculum.
The students met with one of the plant's process engineers (currently on a graduate scheme programme) and learned first hand how a refinery is managed and the role that a process engineer might have within this kind of chemical plant.  Students were also taken to the Immingham Oil Terminal where crude oil is imported, and occasionally products are exported. Students valued the experience to see how large quantity of raw materials/products are transported between countries and through pipelines to the plant.
This was followed by a presentation which taught the students how the refinery process works, including the large ancillary equipment/reactors that accompany the fractional distillation columns such as a methane steam reformer and a hydrodesulphurisation unit. The refinery tour itself took place on a minibus which allowed the group to see the logistics of the plant and the connections from each unit operation to the other.
Abbie said: 
"The society trip to Lindsey Oil Refinery was fantastic, we learnt about the refinery process and got to see the equipment and unit operations that we learn to design throughout our degree. 
It was a valuable learning opportunity, especially for those who have never seen a large scale chemical plant before, to gain some perspective on what Chemical Engineering is all about.
Students in the higher years found it useful too, as it gave an insight into the kinds of roles that a graduate Chemical Engineer might have in the oil and gas industry." 
A world top-100 university
We're a world top-100 university renowned for the excellence, impact and distinctiveness of our research-led learning and teaching.