SynBIM success - research project publishes glowing report on engagement, findings and future challenges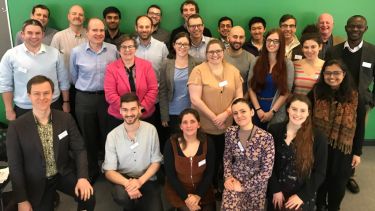 SynBIM's report is presented to educate the scientific community about important future challenges and opportunities across academia, business, funders and policy makers.  
The £1.9 million research project covers three research themes and consists of 15 researchers. It collaborates with the University of Edinburgh, University of Strathcylde, The Directed Assembly Network and industry. The project combines experiments and modelling, creating transformative knowledge and toolsets to enable larger-scale manufacturing of nanomaterials using a bioinspired 'green' approach.  ​
Current nanomaterials manufacturing is significantly wasteful because it is energy and solvent intensive.  Nature itself produces a wide range of sophisticated nanomaterials (biomineralisation) under ambient conditions using temperature, humidity and air pressure. By harnessing biomineralisation principles, SynBIM researchers have developed a 'SynBio' approach to synthesise nanomaterials with almost no waste. 
The project has increased the knowledge and understanding of how it's possible to translate natural processes into materials produced in the laboratory and how we can translate the developed science into industrially relevant products. 
SynBIM's recent January 2020 symposium brought together stakeholders interested in driving discovery-to-scale-up of nanomaterials.  The event combined talks and posters from academia and industry from both within and beyond the project, giving emphasis to the full scope of experimental and modelling interests.  Delegates identified a number of research challenges associated with driving discovery of nanomaterials to sustainable manufacturing. 
The report also highlights the extensive outreach and public engagement activities undertaken by the project. SynBIM was succesful in showcasing to over 1000 people in the wider community, the ambition was to deliver the science behind the project to members of the public who would not normally engage with engineering. The topics included bioinspiration, the effects of mixing, scale-up and uses of silica and magnetic nanoparticles. These were presented in the form of interactive activities including, videos/animations, public talks, school visits and dance events in major UK events which included, British Science Week, Festival of the Mind and Manchester Science Festival.  
Flagship institutes
The University's four flagship institutes bring together our key strengths to tackle global issues, turning interdisciplinary and translational research into real-world solutions.