Dr Adam Brown
Department of Chemical and Biological Engineering
Senior Lecturer
PGR Progression Tutor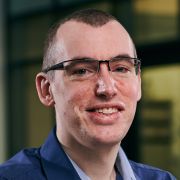 adam.brown@sheffield.ac.uk
+44 114 222 7608
Room G54, Sir Robert Hadfield Building
Full contact details
Dr Adam Brown
Department of Chemical and Biological Engineering
Room G54
Sir Robert Hadfield Building
Mappin Street
Sheffield
S1 3JD

Profile

I obtained a first class honours degree in Molecular Biology and Virology from the University of Warwick in 2008, and a PhD from the University of Sheffield in 2014. Following my PhD, I worked in the Department of Chemical and Biological Engineering at Sheffield, first as a Postdoctoral Research Associate (2014 – 2017), and then as a Research Fellow (2017).

In 2018 I was appointed as Lecturer in DNA Engineering, and subsequently as Senior Lecturer in 2021. My research group focusses on designing synthetic genetic constructs to control and analyse cellular processes, applying the 'measure-model-manipulate-manufacture' engineering design cycle to create DNA components with industry-required functionalities.

My lab is currently utilising > £1 million in research funding to create novel synthetic components for biopharmaceutical development and manufacturing systems. I use these projects and associated industry links to deliver research-led teaching (Biopharmaceutical Manufacturing) to our Level 3 and MSc students. The quality of this teaching has been recognised with Commendations for Teaching Excellence in 2015-16, 2016-17, and 2018-19, in addition to receiving the Best Lecturer Prize (Level 3) in 2019-20.
Research interests

Designing synthetic genetic constructs
Controlling and analysing mammalian gene/protein expression
Engineering cell factories
Biomanufacturing of therapeutic proteins and gene/cell therapies
Mammalian synthetic biology

I welcome enquiries from prospective PhD students and PDRAs. If you are interested in projects in any of the above research areas, contact me for further information.
Publications

Journal articles

Chapters

Patents
Grants

I currently have eleven active research grants, totalling over £1 million (apportioned income) in external funding (6x PI, 4x Co-PI, 3x Co-I). Supported by both UKRI and biopharmaceutical companies my lab is currently utilising this research funding to develop synthetic biological components for i) enhanced production of therapeutic proteins, nucleic acids and viral vectors, and ii) improved performance of gene therapies. I am also a founding director of a spin-out company which provides synthetic genetic components for the biopharmaceutical industry.
Teaching activities

I currently lead a module on Biopharmaceutical Manufacturing (CPE336/CPE6043), and supervise 4th Year BioEng/ChemEng and MSc research projects (CPE440/CPE6011). Awards: Commendation for Teaching Excellence - 2015-16, 2016-17, 2018-19; Best Lecturer (Level 3) – 2019/20