Dr Brant Walkley
Department of Chemical and Biological Engineering
Lecturer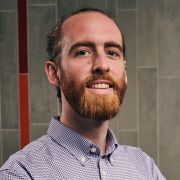 b.walkley@sheffield.ac.uk
+44 (0) 114 222 7528
Room B56, Sir Robert Hadfield Building
Full contact details
Dr Brant Walkley
Department of Chemical and Biological Engineering
Room B56
Sir Robert Hadfield Building
Mappin Street
Sheffield
S1 3JD

Profile

I joined The University of Sheffield in October 2016 as a Postdoctoral Research Associate after completing my PhD in Chemical and Biomolecular Engineering at The University of Melbourne, Australia (awarded December 2016). I also hold Bachelor degrees from The University of Melbourne in Chemical and Biomolecular Engineering (Honours) and Science (Biochemistry and Molecular Biology), and have 7 years of international research and consulting experience across world leading academic institutions and industry.
Research interests

My research focuses on development of sustainable and advanced materials for a wide variety of applications in infrastructure, energy and electronics industries. Particular focus is centred on investigation of composition-structure-property relationships, reaction mechanisms and kinetics in novel nanomaterials, nanocomposites, ceramics, and cementitious binders, using advanced spectroscopic and microstructural techniques, including solid state nuclear magnetic resonance spectroscopy.

Current projects focus on development of low-CO2 cements for sustainable infrastructure; understanding and controlling radionuclide-mineral interactions in cement matrices used for immobilisation of nuclear waste; design, characterisation and exploitation of oxide-based functional ceramics for battery, solid oxide fuel cell, thermoelectric, solid electrolyte and mixed conductor applications; and development of biologically inspired 'green' nanomaterials for applications in catalysis and carbon capture and storage.
Publications

Journal articles

Chapters