Dr Kyra Sedransk Campbell
Department of Chemical and Biological Engineering
Senior Lecturer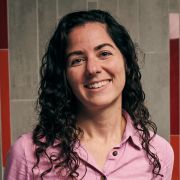 k.sedransk@sheffield.ac.uk
+44 114 222 7601
Room E28, Pam Liversidge Building
Full contact details
Dr Kyra Sedransk Campbell
Department of Chemical and Biological Engineering
Room E28
Pam Liversidge Building
Mappin Street
Sheffield
S1 3JD

Profile

I'm currently a Royal Society EPSRC Dorothy Hodgkin Research Fellow.

Prior to this, I worked as a post-doctoral research associate working with Professor Daryl Williams on work sponsored by the Department of Energy and Climate Change at Imperial College London. This position followed the completion of my PhD from the University of Cambridge Department of Chemical Engineering under the supervision of Professor Geoff Moggridge, sponsored by the National Science Foundation (USA).

I received my SB from Massachusetts Institute of Technology also in Chemical Engineering, for which I completed an undergraduate thesis under the direction of Professor Karen Gleason.  
Research interests

My research group, Sustainable Energy & Resource Engineering, operates at the interface of chemical engineering, materials science, and chemistry.

In my group, we study the fundamentals that drive the changes that occur in dynamic, multiphase systems. In contrast to traditional approaches, which are often localized (e.g. to the surface phenomena only), my group uses a holistic approach where we look at behaviours ranging from, the extreme of the bulk solution through to substrate microstructure. 
Journal articles

LCY, Campbell KLS, Williams DR, 2016, Carbon steel corrosion in piperazine-promoted blends under CO2 capture conditions, International Journal of Greenhouse Gas Control, Vol:55, ISSN:1750-5836, Pages:144-152 DOI Author Web Link Open Access Link

Campbell KLS, Lapidot T, Williams DR, 2015, Foaming of CO2-loaded amine solvents degraded thermally under stripper conditions, Industrial & Engineering Chemistry Research, Vol:54, ISSN:1520-5045, Pages:7751-7755 DOI Open Access Link

Campbell KLS, Zhao Y, Hall JJ, et al., 2016, The effect of CO2-loaded amine solvents on the corrosion of a carbon steel stripper, International Journal of Greenhouse Gas Control, Vol:47, ISSN:1750-5836, Pages:376-385 DOI Open Access Link

Lapidot T, Sedransk Campbell KL, Heng JY, 2016, Model for interpreting surface crystallization using quartz crystal microbalance: theory and experiments, Analytical Chemistry, Vol:88, ISSN:1086-4377, Pages:4886-4893 DOI Open Access Link

Yu LCY, Sedransk Campbell KL, Williams DR, 2016, Using carbon steel in the stripper and reboiler for post-Combustion CO2 capture with aqueous amine blends, International Journal of Greenhouse Gas Control, Vol:51, ISSN:1750-5836, Pages:380-393 DOI Open Access Link