Dr Zoltán Kis
Department of Chemical and Biological Engineering
Lecturer (Assistant Professor)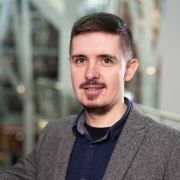 z.kis@sheffield.ac.uk
G58 , Sir Robert Hadfield Building
Full contact details
Dr Zoltán Kis
Department of Chemical and Biological Engineering
G58
Sir Robert Hadfield Building
Mappin Street
Sheffield
S1 3JD

Profile

I joined the Department of Chemical and Biological Engineering, at The University of Sheffield as a Lecturer in September 2021. Prior to this, from January 2018, I was a Research Associate in the Future Vaccine Manufacturing Hub at the Sargent Centre for Process Systems Engineering (CPSE), Department of Chemical Engineering, Imperial College London (ICL), UK, working with Prof. Nilay Shah and Prof. Cleo Kontoravdi. Before that, I was a Research Associate at the Institute for Integrated Economic Research (IIER, UK) think-tank and a Visiting Academic at CPSE at ICL (2015 – 2017). I completed my Ph.D. in the Department of Bioengineering, ICL, in 2015. I obtained an MSc in Applied Biotechnology from Uppsala University, Sweden in 2011 and graduated with a B.Eng. in Chemical with Biochemical Engineering from Babeș-Bolyai University, Romania in 2009.  

I am an expert in mRNA vaccine production modelling for quality by design and techno-economic analysis. I am regularly invited to speak at scientific and industry conferences, to advise policy experts, non-governmental organisations, and companies. I am also frequently interviewed for written news/blog articles, podcasts, radio and TV programs on topics related to COVID-19 mRNA vaccine production. I have contributed to receiving funding from EPSRC/UKRI (EP/V01479X/1; £445,000) for COVID-19/SARS-CoV-2 vaccine manufacturing and supply chain optimisation, and from the Wellcome Trust Innovator Awards (220503/Z/20/Z; £727,458) for developing a process for live-attenuated whole parasite malaria vaccine production.
Research interests

Our exciting research aims to innovate RNA vaccine and therapeutic production processes. This will enable the rapid manufacturing of RNA vaccines and therapeutics at high volumes, low costs and high quality against a wide range of diseases. This will be achieved by developing and synergising a set of physical and digital technologies integrated into the Quality by Digital Design framework and based on techno-economic considerations. The obtained models will enhance both the development and operation of the RNA production processes.

The RNA vaccine platform technology has been successfully used to develop COVID-19 vaccines at record speeds. However, the RNA vaccine production volumes and rates can be further increased, while reducing costs and maintaining consistently high product quality. In addition, RNA vaccines are produced based on a transformative platform technology, meaning that the same manufacturing infrastructure can be used to produce vaccines and therapeutics against a wide range of diseases. Therefore, it is anticipated that the demand for RNA vaccine production technologies will substantially increase and the physical processes and digital tools developed in our group are projected to be widely adopted. 

Key research areas include:

Development, digitisation and innovation of physical processes for the production of RNA vaccines, RNA therapeutics and other biopharmaceuticals
Techno-economic modelling for reducing the costs, increasing production rates and production volumes of RNA vaccines, RNA therapeutics and other biopharmaceuticals
Quality by Digital Design for consistently ensuring product quality, support scale-up, technology transfer, and for accelerating the regulatory approval process.
Publications