Our PhD students work with research centres to solve industry issues.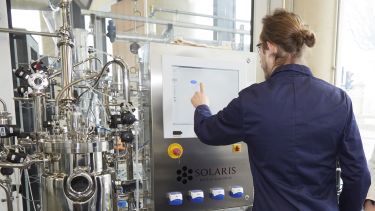 Off
Advanced Biomanufacturing Centre
The application of biological engineering to many of today's challenges, particularly in the fields of health and environment provide an opportunity to develop new biomanufacturing solutions to industry. By relating the engineering principles Measure - Model - Manipulate - Manufacture to biological systems, ABC will harness interdisciplinary expertise to deliver industrial benefit.
---
Centre for Doctoral Training in Energy Storage and its Applications 
The centre tackles industrial research challenges and develops new technologies and leaders that will enable the UK to meet its low carbon targets.
---
Twenty65
TWENTY65 is paving the way for a future that is inspired and enabled by research; that collaboratively and coherently accelerates innovation and generates a dynamic and energised water sector that delivers sustainable tailored water solutions that positively impact public health, the environment, the economy and society.