Astronaut and Sheffield chemistry graduate Helen Sharman returns to campus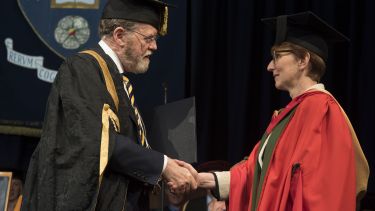 University of Sheffield chemistry graduate and former astronaut Dr Helen Sharman returned to her home city this week to receive an honorary degree.
Dr Sharman, completed her BSc Chemistry degree at the University of Sheffield in 1984. Her personal tutor was future Nobel Prize in Chemistry winner Professor Sir Fraser Stoddart.
During her visit, she also officially opened the University's new teaching and library space, The Diamond, and met students from the Department of Chemistry's magazine, Resonance.
After studying in Sheffield, Dr Sharman got her PhD from Birkbeck, University of London, before starting work at Mars Confectionery in 1987.
But she is best known for becoming the first British astronaut and the first woman to visit the Mir space station 1991
Responding to a radio advert in 1989 for the upcoming Anglo-Soviet Project Juno, Dr Sharman was selected from 13,000 applicants to blast off to the Mir space station.
While on board the space station, Helen carried out various medical and agricultural experiments involving seed growth and protein crystal formation. The mission itself lasted only for eight days, but Helen returned to Britain as a national hero.
PhD student Zoe Smallwood, who interviewed Dr Sharman for Resonance, said: "She was very friendly and a pleasure to talk to, and seemed really interested in Resonance and our experiences as students. We spoke about what my PhD involved, as well as about the department itself.
"Her speech at graduation was lovely, and her message to make the most of the opportunities that come your way was very inspirational. I really appreciated her taking the time to speak to me, both for the initial Resonance interview and on graduation day."
Helen has since achieved recognition for her outstanding achievements. She was awarded an OBE in 1993, and has earned several honorary degrees from different institutions.
In addition, Helen is an honorary fellow of the Royal Society of Chemistry and has been awarded an honorary fellowship at the British Science Association in recognition for her outreach work, communicating science and encouraging the next generation. 
She currently works as Operations Manager for the Department of Chemistry at Imperial College London.
A world top-100 university
We're a world top-100 university renowned for the excellence, impact and distinctiveness of our research-led learning and teaching.