Budding young scientists get hands-on in the labs in memory of Nobel Prize winner Sir Harry Kroto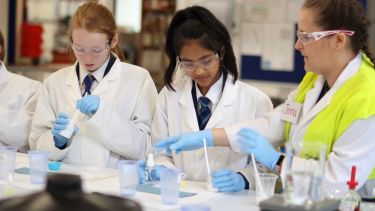 The University welcomed 50 year seven pupils from Chaucer School in Sheffield and Kirk Balk Academy in Barnsley for the annual Sir Harry Kroto Buckyball workshop.
The Kroto workshop is a tribute to the research for which Sir Harry was awarded his Nobel Prize in Chemistry in 1996: the discovery of a new form of carbon, the buckminsterfullerene, also known as buckyballs.
Buckyballs are formed from 60 carbon vertices made entirely out of pentagonal and hexagonal faces and shaped like a football.
Pupils at the workshop got to build their own buckyball using a specially provided kit. The young scientists were able to learn more about the interesting properties of the buckyballs and how properties relate to other carbon based structures such as graphite, layered carbon sheets used in pencils, and diamond.
Chemistry PhD students Matt Watson and Brad Westwater held a Scientific Scale workshop where students were encouraged to think about the relative sizes of objects and how they all fit onto a single scale - spanning nanometres and smaller for the sizes of molecules and atoms, to gigametres and beyond, reaching the sizes of planets.
Later in the day school pupils participated in a range of experiments in the Department of Chemistry. They looked at the pH scale and made a bath bomb with PhD student Jenna Spencer-Briggs, who was recently awarded a Sheffield Academic Award for her teaching.
Pupils also took part in a slime session where they created brightly coloured polymer slime, demonstrating how joining molecules together can form long chain polymers.
Professor Sir Harry Kroto sadly passed away in 2016, at the age of 76. He used to run the Buckyballs workshops all around the world to engage young people in science. The University of Sheffield continues to run the inspirational workshop in his memory.
A world top-100 university
We're a world top-100 university renowned for the excellence, impact and distinctiveness of our research-led learning and teaching.