Making rhyme and reason of chemistry with periodic poetry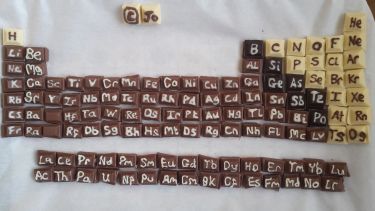 Scientists have been making rhyme and reason of the Periodic Table to showcase their love of Chemistry and highlight its relevance in everyday life.
Dr Joanna Buckley, who works for the Royal Society of Chemistry and teaches in the Kroto Schools Lab at the University of Sheffield, has created the Periodic Table of Poetry which has seen staff and students penning their own verses and rhymes to describe the elements which make up the table.
"In 2015, the Royal Society of Chemistry commissioned ground-breaking research on the public attitudes, awareness, interest and engagement towards chemistry," said Dr Buckley. 
"One of the key findings of the report showed that people expressed neutrality about chemistry. They did not see it as personally relevant and lacked concrete examples of its applications; finding it much easier to specify and visualise negatives or stereotypes. 
"I therefore wanted this project to try and address these concerns by focusing on relatable concepts and highlighting every element's relevance to everyday life". 
To put the table together Dr Buckley contacted everyone in the Department of Chemistry and asked for their input and has been supported by scientists, students and professional services staff.
The poems aim to help readers discover new facts about the elements and find out more about the authors behind them.
There are still some elements which need to be claimed and Dr Buckley is keen to for more people to become involved. 
"I wanted to say a huge thank you to everyone who has taken the time to contribute so far and I'd love to hear from people who are passionate about science who would like to get involved," she added. 
"The end goal is to fill it completely with a poem about every element - even some of the tricky synthetic elements that only survive for a fraction of a second!"
There are plans to share poems from the table on social media, especially on significant days, like the birthday of its discoverer or the date that element was discovered or synthesised. 
A world-class university – a unique student experience
Sheffield is a research university with a global reputation for excellence. We're a member of the Russell Group: one of the 24 leading UK universities for research and teaching.