Pupils explore forensics and chemistry of colour for Salters' Festival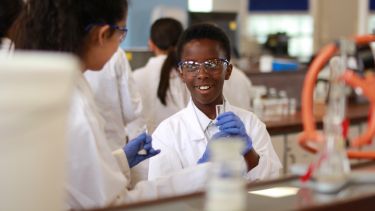 The Department of Chemistry hosted fifteen schools, who travelled from across South Yorkshire and the Midlands for the annual Salters' Festival of Chemistry.
Each school was represented by a team of four pupils from years seven and eight, who competed in a series of scientific challenges on Wednesday 22 May.
During the morning, the teams took part in The Salters' Challenge, forensics activity called One of Our Elements is Missing, which included chromatography and test tube reactions.
In the afternoon, they completed in a University Challenge, designed by staff at the University of Sheffield. For this activity, called The Countless Colours Created from Cabbage, pupils had to create a full rainbow of pH scale using a red cabbage as indicator and different solutions of acids and bases.
The challenges were followed by a lecture by Dr Tom Anderson, who took the students on a tour of the chemistry of colour, before a final prize-giving ceremony. The winners were:
The Salters' Challenge
1st – Nottingham High School
2nd - King Ecgbert School
3rd - Campsmount Academy
The University Challenge
1st - Loughborough High School
2nd - Forge Valley School
3rd - Sheffield High School
---
I enjoyed the lecture the most because it was fascinating learning the different things about colours and rainbows. And the lecturer was very engaging and did a good variety of things.

Salter's Festival Participant
Teachers and other staff competing schools also got to take part in professional development activities: Dr Joanna Buckley ran a session on the International Year of the Periodic Table and Dr Diane Aston hosted Materials in Action.
The Salters' Festivals of Chemistry are an initiative of The Salters' Institute, to promote the appreciation of chemistry and related sciences amongst young people, and to encourage careers in chemistry teaching and the chemical industry.
The Festival at the University of Sheffield was one of a series of 59 Festivals taking place at universities and colleges throughout the UK and the Republic of Ireland between March and June 2019.
A world top-100 university
We're a world top-100 university renowned for the excellence, impact and distinctiveness of our research-led learning and teaching.