School pupils take part in Chemistry workshop in memory of Sheffield Nobel Prize winner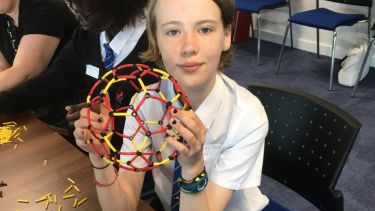 Budding young scientists took part in a hands-on chemistry workshop in memory of internationally renowned Nobel Prize winner and University of Sheffield graduate, Sir Harry Kroto.
Year seven school pupils from Forge Valley and Chaucer School in the city, tried their hand at making bath bombs and slime as part of the annual Buckyball workshop, held at the University.
Sir Harry, who passed away in 2016 aged 76, did his Chemistry BSc and PhD at the University of Sheffield. He received a Nobel Prize in Chemistry in 1996 for his discovery of a new form of carbon, buckminsterfullerene. These molecules, also known as buckyballs, are shaped like a traditional football, with carbon fullerene molecules made of pentagons and hexagons.
So keen to share his enthusiasm for science, Sir Harry developed resources for school pupils that he delivered all around the world giving students the opportunity to build their own buckyballs and discover more about their properties. 
The University of Sheffield has continued to hold the workshops every year to remember his inspirational work. 
This year's event was attended by Sir Harry's wife, and Sheffield alumna, Lady Margaret Kroto.
She said: "As a scientist and a teacher Harry was always looking for ways in which to inspire young people to develop the same fascination for science he had. After the discovery of C60 (the Buckyball) he quickly realised the teaching potential of this beautiful molecule and the Buckyball workshops were born.
"Harry would have been delighted to see that these workshops have continued at Sheffield and that an annual Kroto Science Day has been established. I know that he would have been very impressed with the whole programme and all the people involved in its organisation and execution. It was clear from the questions the children asked and the answers they gave at the end of the day that they had really benefited from the event."
 
Events at the University
Browse upcoming public lectures, exhibitions, family events, concerts, shows and festivals across the University.