Students remember Nobel Prize winner with hands-on chemistry workshop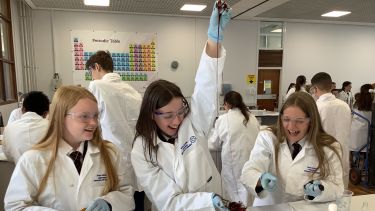 School pupils tried their hand at making bath bombs and slime as part of an interactive chemistry workshop in memory of internationally renowned Nobel Prize winner and University of Sheffield graduate, Sir Harry Kroto.
The University welcomed 50 year seven students from Forge Valley and Chaucer School in Sheffield, for the annual Sir Harry Kroto Buckyball workshop. 
Sir Harry, who passed away in 2016 aged 76, did his Chemistry BSc and PhD at the University of Sheffield. He received a Nobel Prize in Chemistry in 1996 for his discovery of a new form of carbon, buckminsterfullerene. These molecules, also known as buckyballs, are shaped like a traditional football, with carbon fullerene molecules made of pentagons and hexagons.
Budding young scientists got the chance to build their own buckyball at the event using a specially provided kit and discovered more about their properties.
There was also the opportunity to enjoy a number of chemistry demonstrations, including an iodine clock reaction, where a chemical solution flits instantaneously between two colours, and the flash-freezing and shattering of everyday items using liquid nitrogen.
Ella-Rosa Twyman, one of the workshop organisers from the University of Sheffield, said: "Professor Sir Harry Kroto used to run the Buckyball workshops all around the world – including an annual visit to Sheffield – to engage young people in science. 
"We are delighted to continue to run this inspirational workshop at the University of Sheffield in his memory.
"The pupils had a fantastic time learning more about attending university and getting to chat with current undergraduate science and engineering students. We hope the workshop will encourage them to consider a career in STEM."
Events at the University
Browse upcoming public lectures, exhibitions, family events, concerts, shows and festivals across the University.